Discussion Starter
·
#1
·
After camping out in 30 degree weather ( and that was the high's) for 5 days. I am glad to say that I am home where I can control my heat, but I will miss my campfire food.
My wife brought me an Remington 700 Left handed rifle this year so needless to say I was all egar to go hunting for my first time. I knew what to expect, due to my "tagging along" last year with Alisha, but the dang lows of 20's or in the teens gets to me at sunset. I was sitting there shivering, and hoping that my first buck ..Aka Bambi father ( Have you
SEEN
his huge rack?!) would pop out of no where, but alas No luck in shooting an deer, but Alisha father shot one for us, ( He was just standing on the trail a doe popped out,shot her, and let us use our tags on it).
Lets give you guys the grand tour of the camp site!
Pic 1- Me and my wife
Pic 2- The shelter we staid in. The brown area you see is where we slept in, that can easily fit about 12 people with cots in it. The white area you see that is attached to the brown is the kitchen.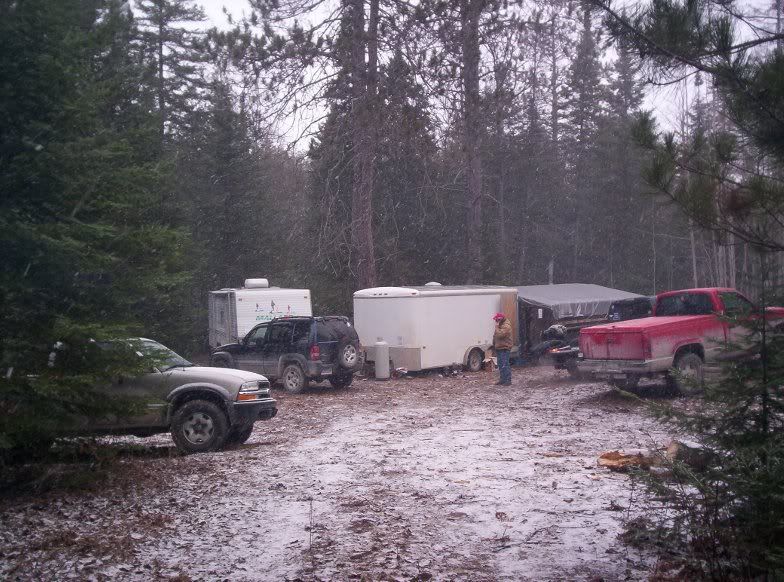 Pic 3- The kitchen
Pic 4- The sleeping area, in the middle you see the heater the whole place is heated by kerosene heater that gets vented out through the chimney you see there. The heater is right smack in the center of the sleeping area ( the other half just looks like the first half)