Scrub Buck
Join Date: Dec 2014
Location: Michigan
Posts: 7
Another opening day memory 2014.
---
No Yooper deer this year.
Cold 27F with a 20F wind chill just before I went out the door 11-15-14 at 6:50 PM. Made the short walk to my deer blind behind the pole barn. Scared a bunch of deer in the dark, they ran thru the frozen leaves making a racket.
Got up in my blind and settled in . About 7:30 I had a cup of tea and took a Motrin for my throat, felt a cold coming on. I closed the south facing window because the snow was blowing in it. I am watching a bunch of squirrels that are wakening up playing around. I hear leaves making a racket to the south so look and see a deer. I open the window again as the deer disappears behind some brush. Grab binocs and take a look as it comes from behind the brush. It's a buck. Grab the shot gun and stick it out the window, can't see any horns. Turn it up from 1.5 to 4 power and now I see horns a decent rack. Squeeze the trigger, watch the buck spin around in its tracks and fall. It is now 8:15AM I climb out of the blind to go to the deer as Kare calls me on the radio. She tells me there was a shot close to the house it seemed. I tell her it was me who shot. She asked if I wanted her to come take pictures. I say yes and tell her it is a 7 point, 4 on one side and 3 on the other.
She helped after the pictures to drag it to where I could get the lawn tractor and trailer to it. Heavy deer about 190 pounds, Kare said she knew why some deer hunters every year die of heart attacks after helping me drag it.
The blind I stained this summer. The left window is the one I had to close then open.
The deer a 7 point.
[img width=576 height=768]http://i3.photobucket.com/albums/y60/twotracker/Hunting%20things/2014Nov15_2353_zps8e579216.jpg[/img]
[img width=576 height=768]http://i3.photobucket.com/albums/y60/twotracker/Hunting%20things/2014Nov15_2355_zps7726a572.jpg[/img]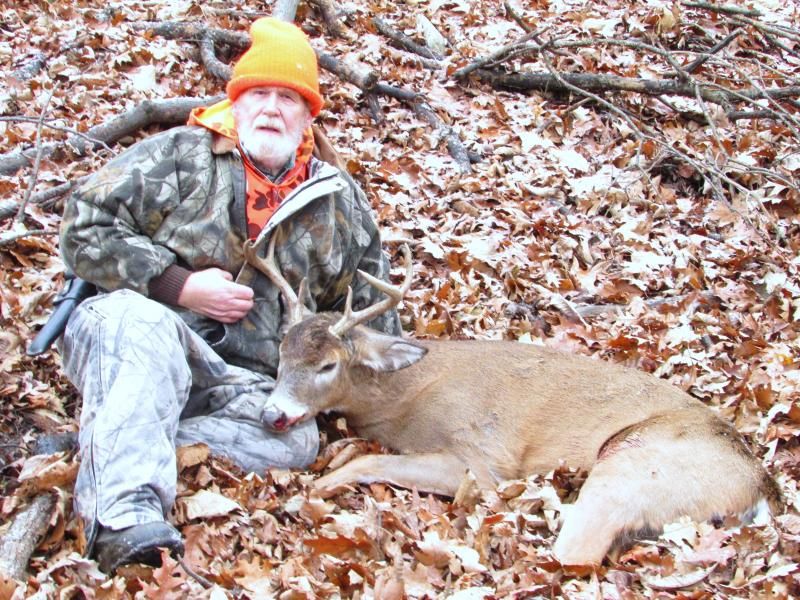 ---
Your not fully dressed with out a smile.
Al
Join Date: Jan 2007
Location: Vermont, moved to Florida July 2016
Posts: 5,701
Congratulations, Another fine Buck !!!
---
Democracy is two wolves and a lamb voting on what to have for lunch.
Liberty is a well-armed lamb contesting the outcome of the vote.
-Benjamin Franklin

B&C 200 Class
Join Date: Nov 2007
Location: Oregon, Ohio
Posts: 8,458
Very nice buck and hunting your own property is a plus!
Scrub Buck
Join Date: Dec 2014
Location: GA
Posts: 11
Congrats on the kill and the deer dragging buddy lol my wife does not do that!! I put a head in the freezer to have mounted and she wont even go to get food out. Says it freaks her out. By the way, I married a city girl haha. You are the envy of most people walking out the door to hunt
Nice buck.
---
Born on a mountain raised in a cave huntin and fishin is all I crave
Fine Buck & nice shooting house to boot
---
2017 Bow String Depot Prostaff http://www.bowstringdepot.com/
Remember when posting what may seem innocent to you may not to others,
text shows NO emotions so please,,, don't take it personal & automatically go on the defense.
Take it w/ a grain of salt, take it as a joke or just let it go.
B&C 100 Class
Join Date: Feb 2011
Location: Holland, New York
Posts: 90
Nice story and deer blind... congrats on a nice buck!
B&C 100 Class
Join Date: Dec 2014
Posts: 96
Congrats on new score buck!!!! have a go with your hunting cheers!!!