Scrub Buck
Join Date: Mar 2011
Posts: 26
keys for barrel
---
I just ordered one of the "old" type ML's, a Lyman deerhunter, perc. .54, but I've never owned one of these types.

When do you have to remove the barrel? During each cleaning? or just occasionally for some other purpose? How do you get the wedges out?

BTW, this is my first season hunting and I got two deer so far, a little button buck, and a nice big ole doe. With the CVA Optima .50.

Not sure if I'll be hunting the seven days after Christmas. Cutting the meat has been a lot of work. And I'm still working on curing the hide from the old doe.
Scrub Buck
Join Date: Mar 2011
Posts: 26
Here's a pic of the doe.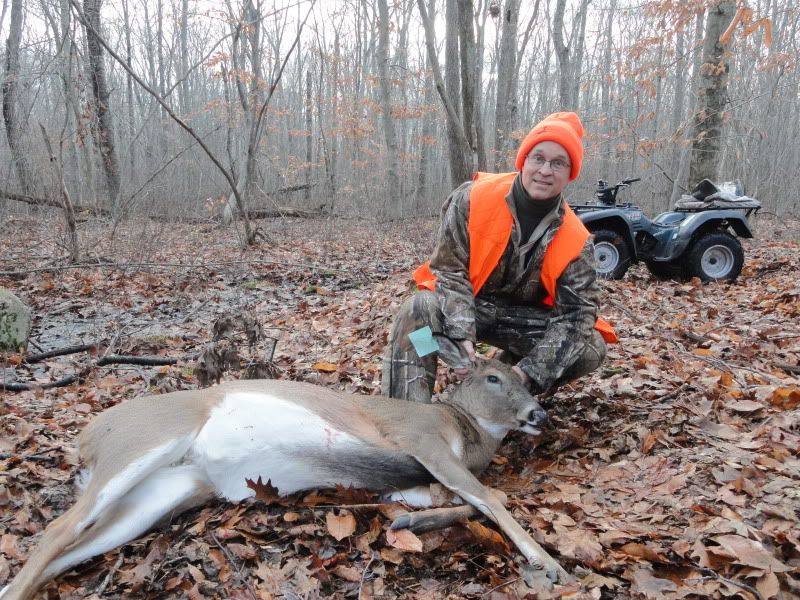 Scrub Buck
Join Date: Nov 2011
Posts: 5
You'll want to remove the barrel for each cleaning unless you are just swabbing between shots. Just pry the wedge out enough to grab it . You might want to use pliers if it fits tight. A pair of blunt nose wire cutters also work good. An old guy I used to work with called them bull nips. The wedge won't be hard to get out and allows you to clean the barrel and the receiver much better. Good job on the deer. Getting 2 the first year is impressive. Marty
B&C 200 Class
Join Date: Nov 2007
Location: Oregon, Ohio
Posts: 8,458
congrats on the kills. What powder will you be using for the new Lyman? I usually start the key out with a small brass punch with black tape over it to prevent any scratches and lightly tap the key out some and then just pull it out.
Scrub Buck
Join Date: Mar 2011
Posts: 26
I only have Pyrodex RS right now. Should I consider something else?

Thanks for the info on the wedge.
B&C 200 Class
Join Date: Nov 2007
Location: Oregon, Ohio
Posts: 8,458
For me I like black powder. Yes it is a bit messier but in a side hammer it's tradition. I prefer 3f in 45-50 cal and 2f for 54 and above.
Join Date: Jan 2007
Location: Vermont, moved to Florida July 2016
Posts: 5,701
thats a nice fat doe Congratulations!!!
---
Democracy is two wolves and a lamb voting on what to have for lunch.
Liberty is a well-armed lamb contesting the outcome of the vote.
-Benjamin Franklin

Scrub Buck
Join Date: Mar 2011
Posts: 26
Sure I'll give the real black powder a try. Thanks. And thanks for the comment Bruce. A guy at my club says he has a powder horn for me; I sure hope he remembers and comes through for me. Those things aren't cheap.
Congratulations JP!! Real nice doe and great picture you posted! As far as not going hunting at all during those days after X-mas you mentioned, I'm sure you have other things to do, but don't let ALL of those days get away. Go at least once or twice. If you don't, you'll look back after it's over and kick yourself for not going. I've got just short of a month left, counting bow season, and I am already having anxiety attacks about deer season being over for another year. Just my thought, anyway congrats again!!