B&C 120 Class
Join Date: Nov 2011
Location: Southeast
Posts: 295
Odd Muzzleloader Buck
---
kinda hard to believe but back in 2005, I shot a buck at 50 yards in about 6" of fresh snow. It was a perfect shot, double lungs. It was a complete pass through and the buck ran about 60-yards. For the entire distance and where he fell, not a single drop of blood. Not one. Take a look.
Even for the trophy shot, no blood. Maybe it was because it was -17 degrees.
BTW- If you are new to mzl. in extreme cold don't take your gun inside. The condensation in the barrel can cause problems.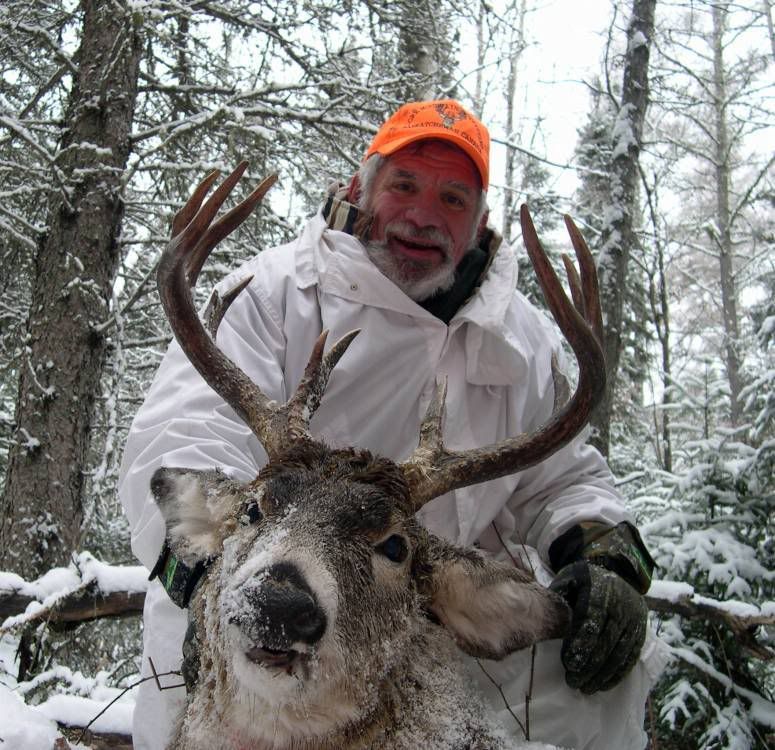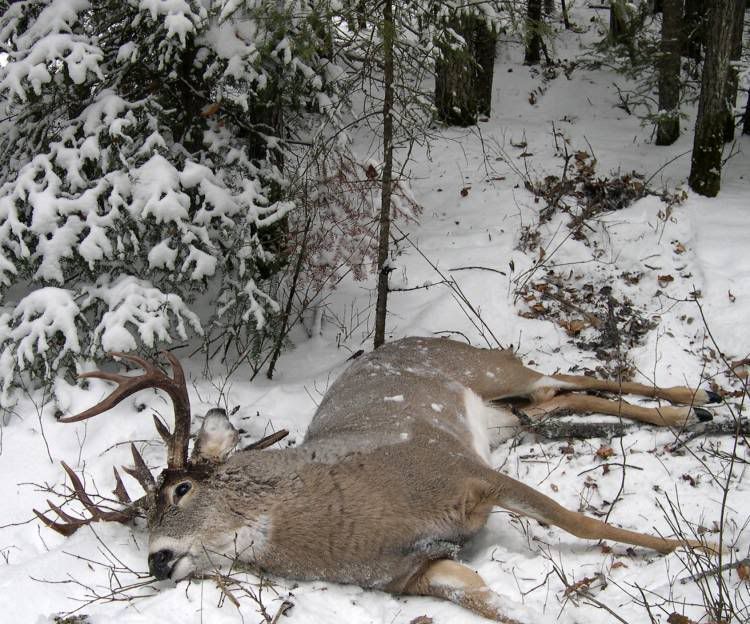 ---
Last edited by scribe; 12-13-2011 at

12:59 PM

.
B&C 200 Class
Join Date: Nov 2007
Location: Oregon, Ohio
Posts: 8,458
cold, snow and Ml go hand in hand! Nice buck.
B&C 100 Class
Join Date: Sep 2011
Location: Tijeras, NM
Posts: 189
I know its an old pic, but nice buck!
---
As of now: '07 Martin Jaguar compound vertical bow. 55* draw weight, 29" draw length. 28" Beman, ICS. Bowhunter 400's 8.4 gpi arrows.
That's a really good looking buck!!! No blood at all????




Join Date: Jan 2007
Location: Vermont, moved to Florida July 2016
Posts: 5,701
Great looking Buck. No Blood though? Are you sure it didn't die of a heart attack, after you shot and missed hitting it?
---
Democracy is two wolves and a lamb voting on what to have for lunch.
Liberty is a well-armed lamb contesting the outcome of the vote.
-Benjamin Franklin

B&C 120 Class
Join Date: Nov 2011
Location: Southeast
Posts: 295
Might have had a heart attack but the heart looked healthy. However, both lungs were a real mess. he was Full of blood inside, just didn't have any make it outside. had I not heard him fall and followed his track a little ways, he might never have been found.
B&C 100 Class
Join Date: Feb 2011
Location: Holland, New York
Posts: 90
That is exactly why I exhaust every effort in trying to find my deer after the shot.
I truly cannot imagine the deer that are lost due to a half hearted follow up! I shotgunned and double lunged my buck this season to find no blood but specs of lung tissue... I thought I missed, further inspection...tissue and small amount of hair kept me going.
Nice buck! Saskatchewa?