Traditions Vortek Performance
---
Brought the Vortek to the range today and it actually performed Better than I could have ever imagined.
I failed to take a Final picture showing my 2 final shots but here's a pic after 7 shots, the #8 and #9 shots (not shown) were inside the #7 hole
I'm upset that I didnt get the final pics to share but the range was busy and I ended up rushing to clear my lane for the next shooters.
#1 and 2# were off because I changed scope mounts (added see through mounts) This is what I ended up with after making scope Adjustments.
I'll go back to the range for final adjustments in a couple days and I'll post the results.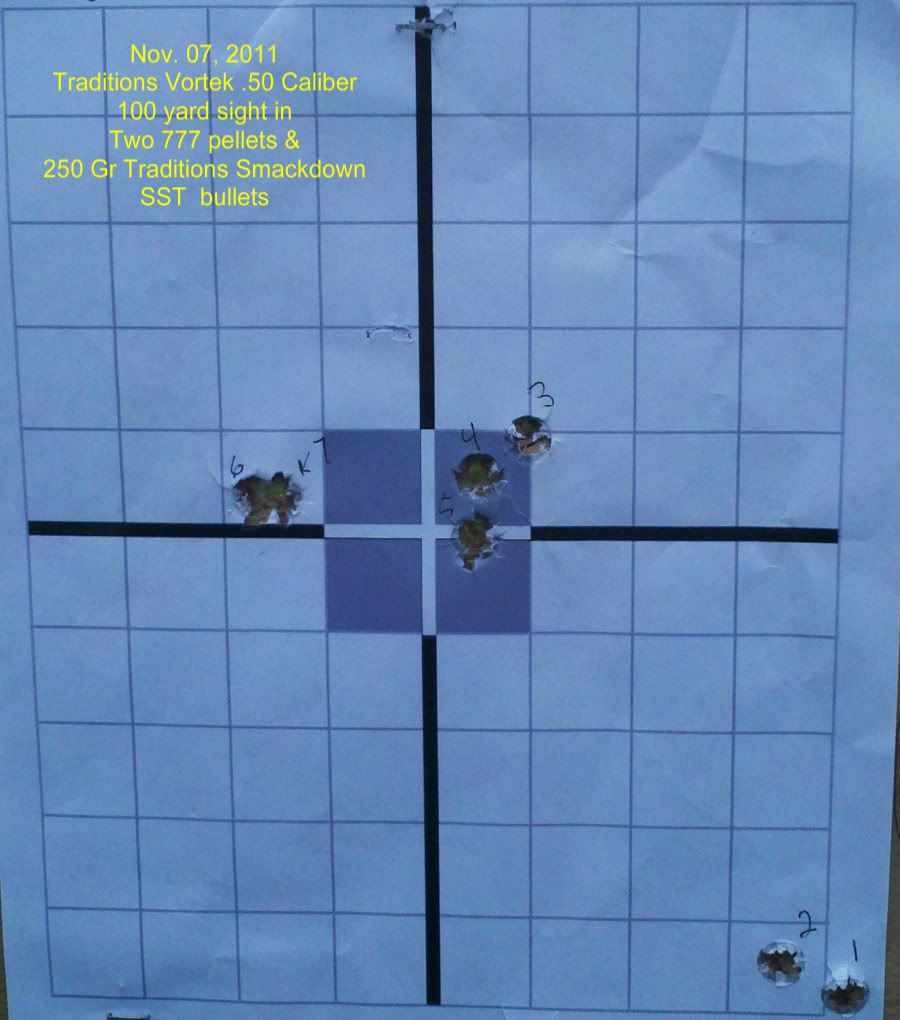 ---
Democracy is two wolves and a lamb voting on what to have for lunch.
Liberty is a well-armed lamb contesting the outcome of the vote.
-Benjamin Franklin

Looks like you're zeroing in very well BB.




Hey Bruce, very nice results from your Vortek. I always liked that gun ever since it was introduced in '09. I also used 777 pellets for 7 yrs before switching over to Blackhorn. They were excellent for me too, great groups and no misfires, but the crud ring after 3 shots got to be a pain. I never wanted to use loose powder, but after getting set up for the Blackhorn I found that it was just as easy as using pellets. And I gained a little more than 200 fps with the same 100 gr charge, that part I really liked, and the repeatable accuracy is great. But yeah, looks like you are dialed in for huntin'. GOOD LUCK!!!
Scrub Buck
Join Date: Dec 2010
Location: Evansville Indiana
Posts: 7
I did bettter than that with my traditions Vortex. I was using Shockley's Gold 100 grain loose powder at 100 yds. I hit the same hole.
B&C 100 Class
Join Date: Sep 2011
Location: Tijeras, NM
Posts: 189
I have two of them, one rifle one pistol. The pistols accuracy is great. They pair up nice on a ML hunt.

I am swaging and casting my bullets for them with excellent luck. If you want to try a few just holler.