Big Sow Taken With Patched Round Ball
---
Gun: .54 TC New Englander, 26" barrel
Powder: 90 grains of Black MZ
Cap: Winchester #11 Magnum
Bullet: Patched round ball
Went hunting this morning. Saw several smaller hogs and one big spotted sow. Followed the spotted sow down a woods trail for about 150 yards: But lost her. Decided to sit in a hunting blind for awhile. Was walking toward the blind and saw a big black hog. Wind was in my favor and i put a stalk on her. At a distance of about 30 yards i put a .54 caliber patched round ball in her ear.
This sow weighed about 275 pounds and was very fat.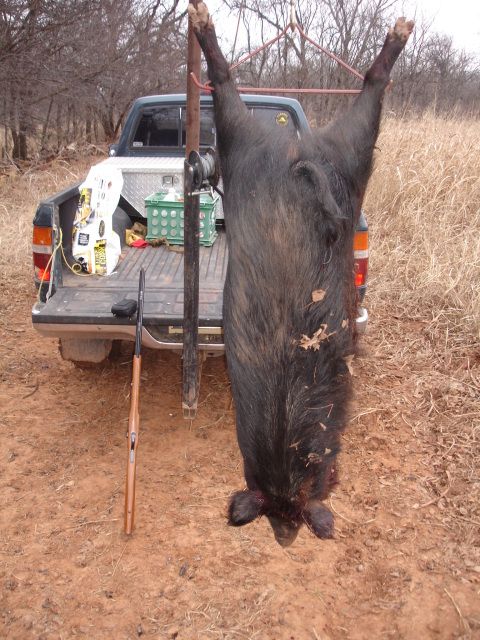 B&C 200 Class
Join Date: Nov 2007
Location: Oregon, Ohio
Posts: 8,458
Join Date: Jan 2007
Location: Vermont, moved to Florida July 2016
Posts: 5,701
Congrats,, that looks like some good eating right there....
---
Democracy is two wolves and a lamb voting on what to have for lunch.
Liberty is a well-armed lamb contesting the outcome of the vote.
-Benjamin Franklin

Looks like a lot of bacon to me, congrats, nice job.
Steve
---
The First Point and Click Interface was a Smith & Wesson.