Join Date: Oct 2009
Posts: 72
Climbing down before 10
---
I have a rule that I will not ever climb down before 10. I have done it in the past and a few times it has bit me in the butt. I 99% of the time are in a tree before daylight, but will sit till 10 at the least. I killed an 8 point last Saturday at 9;30. I f Id have climbed down he wouldnt be in my freezer, and the last 8 point I killed was 2004. Friday I heard a shot very close to me bout scared me to death and it was 10;30. Found out later it was a 6 point, and when I was weighing my deer Saturday at the check station a man pulled up with an 8 that he shot at 10 oclock. By all means sit all day if you can but at least till 10.
comfortable stands are the key! i only use stands with sling-style seats, man are they comfortable. never know when that big boy will stroll by.....
Join Date: Oct 2009
Posts: 72
Same here. Old Man Vision is about 8 years old and as comfy as it was new.
Like ya'll are saying comfort is the key to a longer sit. My hang-on stands I start to get weary by 9 or 10. The butt just cant take it anymore. My climber though, man I can sit until the food runs out.

Thats funny you say 10. That is always the bare minimum we sit on our lease. If one of us went home before 10 the jeering would start!!




I wonder if there is any research that shows big bucks move more at midday. I have heard oldtimers saw hunt the big boys from 10 - 2. I know more aren't harvested at that time because who is in the stands....

I know I see more deer at daylight and dark but rarely a monster
Join Date: Oct 2009
Posts: 72
I think there may be some truth to that especially on the full moon, but I gotta eat and if I eat much on stand Ill have to clear my throat afterwards several times, I think its called aspiration but whatever the name I am plagued by the condition. I can eat fruit and nuts and it doesnt occur so thats what I nibble on stand.
Quote:
I wonder if there is any research that shows big bucks move more at midday.
I've read a whole lot of books that say this is the case.
Join Date: Oct 2009
Posts: 40
Shot mine at 12:15. He was small but still had bone on his head. I watched him and two does feed for an hour before he came around and presented a shot. I thought my head was going to explode from my heart pounding during that hour. One time he walked right behind the tree I was in at about 15 yards. I was patient and as luck would have it he gave me a 30 yard shot. This is the first deer I've shot out of my tree stand.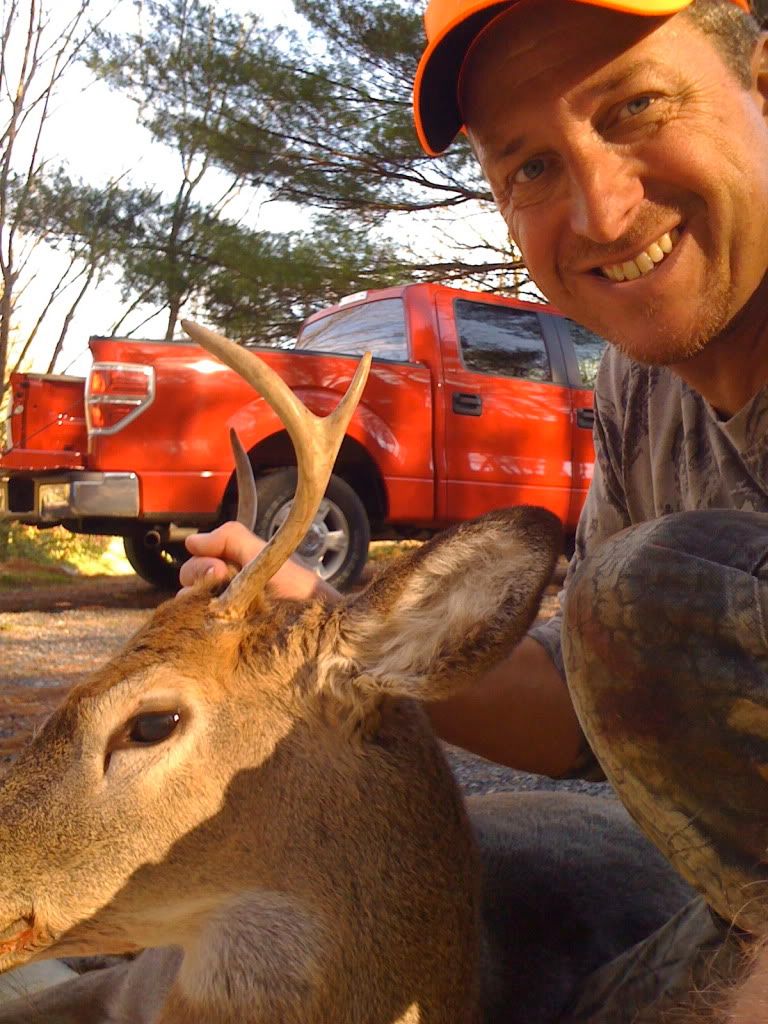 B&C 200 Class
Join Date: Nov 2007
Location: Oregon, Ohio
Posts: 8,458
congrats on the nice buck! One reason there is deer movement mid day cause a lot of hunters are up and moving at lunch time thus push deer into the long hour sitters.
ameristep buckbuster
---
just bought an ameristep buckbuster 18' from cabelas. has a sling-style seat so should be comfortable. anyone have one of these stands? pros-cons? paid $169 with a $15 off coupon and $50 mail in rebate through ameristep so got one helluva deal, i think:)