B&C 200 Class
Join Date: Nov 2007
Location: Oregon, Ohio
Posts: 8,458
Year end reports
---
Well lets all give our final report for the 2012 season.

For me it started with a spike buck and nice doe in Michigan archery.
PA gave me a nice archery 6 pt buck.
Southern Ohio gave up a nice doe and a 8 pt buck that while not a big trophy for some it went to the taxidermist to balance out my wall, both archery shot.
So 5 shots with the new Excalibur crossbow and 5 kills. All in all my best year of deer hunting, great friends and valued time with my son, for me that's what hunting/fishing is all about!
Muzzy MX3's and Excalibur, great combo.
One decent buck for me. One for my son. No doe's, both with 270. Went scratch this year with bow and smoke pole an scratch on fall turkey. But I just didn't have the time to be out as much as the past. I got both in my areas but don't do no good if I can't get out to capitalize on opertuneity. Been spending the past few months mounting everyone else's trophy's lol
Not a great year for me. Ga. was 0, Fla. was another goose egg. NC was still tough. very nice doe with horton xbow and muzzy 3 blades. NC rifle was a 6pt. average is 4-5 in NC, 2 in Fla and 1 in Ga. Not a very productive year,but still had a blast hunting with friends and familiy
---
Born on a mountain raised in a cave huntin and fishin is all I crave
I had a great year of just hanging out in a tree.With over 75 5hr hunts.Just never could get a good one stopped in bow range this year.I shot a small 3.5 year old 8 point, a half rack with 6 points including a 6'' drop tine and several does oh almost forgot about my Tom turkey with 10" bread. all with Rage 3 blades and my PSE X-Force.Looking forward to next year already
---
It's all for the love of the "GAME"
---
Last edited by Bud; 02-03-2013 at

07:31 AM

.
Big el-zippo here in SE-AK. Weather was just too crappy most of the time when I had time available to go hunt.
---
NRA Life member
NAHC Life member
USN Retired
B&C 120 Class
Join Date: Sep 2010
Location: Lititz,PA
Posts: 271
I missed a doe with the flintlock in October because I overestimated the distance and aimed high.A few other hunts were cancelled due to my wife's health.In December I went on a special hunt for flintlocks in a restricted area on a waterfowl project.100 hunters on 1000 acres for population control.10 were drawn for bucks.My number was 63 and 64 was drawn.I saw 15 deer,most were running in fields,some surprised me from behind in the woods.15 minutes before quitting time an 8 point buck walked past me at about 30 yards,all I could do was watch.I will definitely apply for this hunt next year.A buddy got 2 doe in the rifle season and gave us balogna and sweet sticks.That was it.
B&C 100 Class
Join Date: Sep 2010
Posts: 68
These are my two for the season. Got the first one December 10. Got the second one January 21.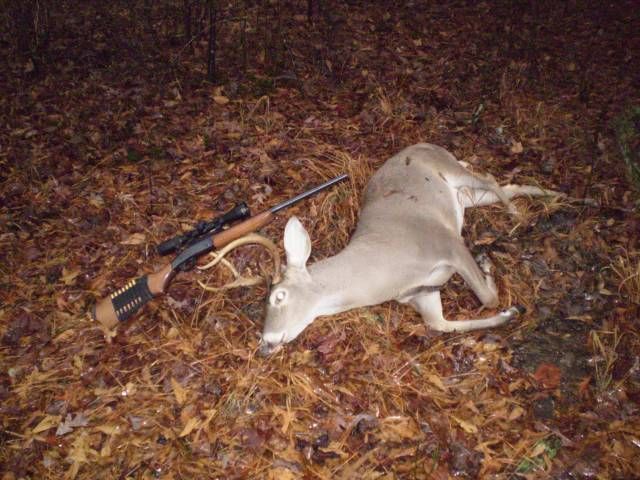 ---
(Luke 11:21 KJV) When a strong man armed keepeth his palace, his goods are in peace:

(Luke 22:36 KJV) Then said he unto them, But now, he that hath a purse, let him take it, and likewise his scrip: and he that hath no sword, let him sell his garment, and buy one.
Just one for me this year. Buck with the rifle. I had my chance with the bow a couple times, but it just didn't work out.
---
John Eitzen
well started for me with Turkey season called in my oldest daughters Turkey (1st time hunting) then scored one for myself & called my buddies fist Turkey ever
Had a rough year archery season here in NH had a lot of missed opportunities but had redemption in NY with an 8 pointer + my buddy got his first deer ever which was the best part of our trip (1st Turkey &Deer ever in the same year) did not do much rifle hunting after NY trip saw very few deer till the end of the season
all in all didn't get a lot of deer personally but was in the top 3 best years for me to see my daughter & buddy score there 1st animals
---
Owner/ Operator of CPO Chris Palermo Outdoors: USA Sales of Laserworks rangefinders/Optics & BlendinUSA gear

https://www.facebook.com/cpoutdoors19

https://chrispoutdoors19.wixsite.com/
Auto-Lock Broadheads Field staff https://www.auto-lockbroadheads.com/