Last day of ice fishing 3-21-09
---
WELL BEEN GONE FOR AWHILE!BEEN BUSY WITH ICE FISHING GOT INTO TIP-UP FISHING.WHAT A BLAST.THIS IS MY BIGGEST NORTHERN PIKE I HAD CAUGHT THE LAST DAY OUT ON THE LAKE.WHAT A WAY TO BRING ICE FISHING TO A CLOSE!!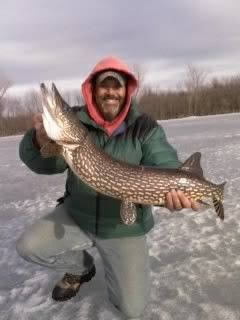 IT WEIGHED IN AT 11LBS MY PERSONAL BIGGEST!! I WAS SO HAPPY.
---
GRAB LIFE BY THE HORNS
WOW that thing is a beast! Good catch buddy.




B&C 200 Class
Join Date: Nov 2007
Location: Oregon, Ohio
Posts: 8,458
Trophy pike, man you just gotta love it! Great fish.
Join Date: Jan 2007
Location: Vermont, moved to Florida July 2016
Posts: 5,701
That's a nice way to close the ice fishing season...
---
Democracy is two wolves and a lamb voting on what to have for lunch.
Liberty is a well-armed lamb contesting the outcome of the vote.
-Benjamin Franklin