Join Date: Mar 2007
Posts: 3,608
i find the early season its best to use the worm or a spinner with some flash
Well the run is on again....wish I had the camera for some real big fish but I got pics of 2.......any new members can check out the pics I have from last year in this thread just acroll to the beginning
nice. so they are more like steelhead? i had this argument with my buddy that said steelhead aren't in the great lakes and that steelhead are an ocean run fish but if you look up steelhead it mentions the great lakes. must be a fun time of fishing season to play around with those beauties.
B&C 200 Class
Join Date: Nov 2007
Location: Oregon, Ohio
Posts: 8,458
Looking good! Now a little seasoning and hot oil....I can smell it all the way to Ohio!
couple more pics
my son with probably the biggest so far
4 wheeler for a measure reference on the days catch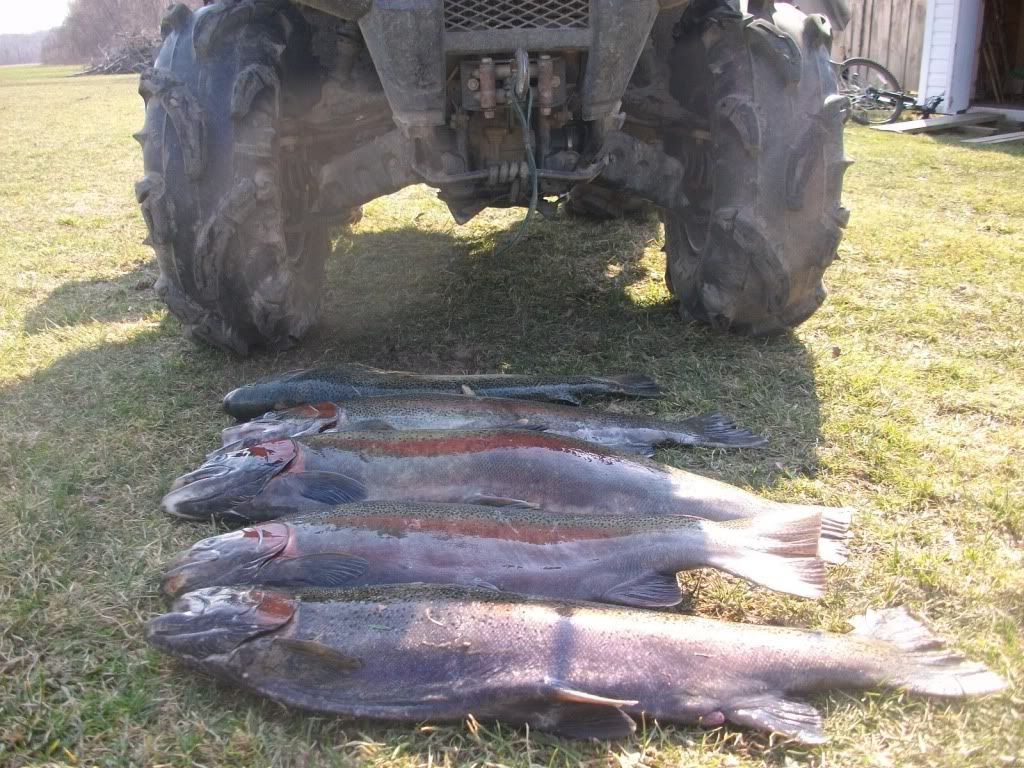 keep in mind the tire is 27 inches
now those would be fun on a fly rod.
ronn I'm no expert but I think the steelhead are very shiny-silverish fish. I have a couple pics in here of them. Then again there are rainbow, brown, and maybe some others too but I'm not sure. Alot of fisherman go all day with the fly rods and do quite well.




wow just wow. them fish are amazing. makes my want to pull out the old fly rod. untill i bought my first car my fly rod was the most expencive thing i owned. but sadly i have not used it in years.
Very cool pics.. Those things are huge..




Join Date: Jan 2007
Location: Vermont, moved to Florida July 2016
Posts: 5,701
OH WOW I just noticed while I was admiring those MudZilla Tires, there's some fish in them pics..
Awesome pics TG !!!
---
Democracy is two wolves and a lamb voting on what to have for lunch.
Liberty is a well-armed lamb contesting the outcome of the vote.
-Benjamin Franklin