Catfish
---
Had a great fishing trip this weekend. Went to the river and sackedemup. Caught over 100lb. of blues, channels and flathead catfish. The dang stinger was so heavy I had to get help to get it in the pickup.
We also got to snag some huge gar. We took a pic of the first one we got in, and of course it was the smallest one all day...seriously...
Later on in the day my buddy got one up to the bank that would have weighed over 50lb!! He kept saying "grab him, grab him on the tail", but for some reason I was a little reluctant to jump in the water with that toothed monster...he got away.
---
John Eitzen
Join Date: Mar 2007
Posts: 3,608
way to go i love deep fried catfish and hush puppies
---
Last edited by joel the signman; 08-04-2008 at

02:27 PM

.
Join Date: Jan 2007
Location: Vermont, moved to Florida July 2016
Posts: 5,701
That's a nice stringer right there...
---
Democracy is two wolves and a lamb voting on what to have for lunch.
Liberty is a well-armed lamb contesting the outcome of the vote.
-Benjamin Franklin

That's alot of serious fish frying going on there. Is that gar fish a member of the Pike fish family cuz I see those up here once in a while in ponds and older stagnant runoffs and such. How do you cook up a catfish?




B&C 200 Class
Join Date: Nov 2007
Location: Oregon, Ohio
Posts: 8,458
I like to mix up a seasoned flour mix with about 30% yellow corn meal. Dip the catfish in milk/egg then coat them in the dry mix and deep fry. Peanut oil is great for fish.
I add Loureys, garlic,a dash of cayenne pepper, lemon/pepper/ papprica/bread crumbs to regular flour. Sounds like a lot but it comes out pretty good. I use this for all deep fried fish. I make up a big batch and put it in the freezer for storage. Thats a nice catch!
---
Last edited by Hunting Man; 08-05-2008 at

02:24 PM

. Reason: addition
Nice stringer!

You guys are making me hungry.
Join Date: Aug 2008
Posts: 6
Catfish I caught
---
Just one that I caught....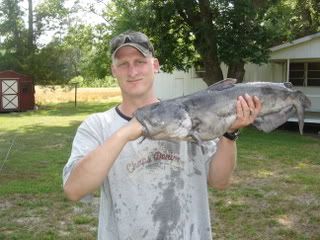 Join Date: Aug 2008
Posts: 6
Another Trip same Bait
---
I like the stringer pics so heres mone...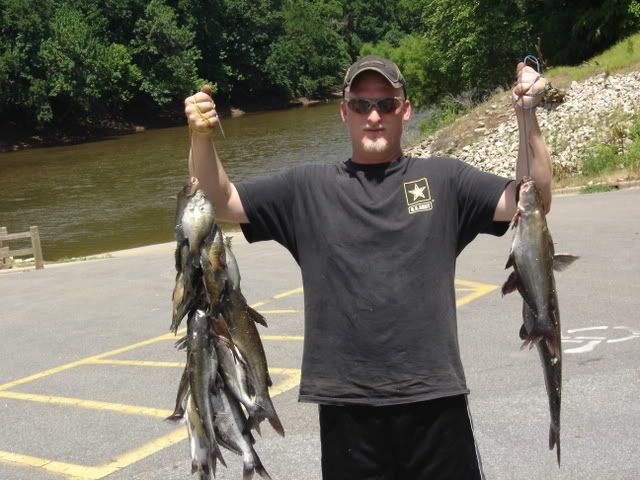 Join Date: Mar 2007
Posts: 3,608
fish fry
did ya noodle that first one?
Join Date: Aug 2008
Posts: 6
Yea the first one was noodled....