Howdy Ho
---
Hope you are each doing well. Just curious what everyone has shot this year. I have only got to go 1 time and let 2 does walk by with the hope that my bro-in-law would get a shot at them. He didnt and so now neither one of us has got one.

I am still getting use to working mon thru fri (and some Sat and Sun) and trying to find time to hunt. Guess what! There is no time to hunt with that schedule. I liked my old schedule better when I would have several days in the week to get in the woods. I go back to my old schedule in 2 years so I should get more time in the woods then. All the overtime is better on your wallet but not on doing what you enjoy.

For those with seasons left good luck.


Hope you each have a good Christmas and that you take time to remember what its all about.

Now show me what you killed so I can get jealous and motivated to get in the woods.




B&C 120 Class
Join Date: Nov 2011
Posts: 269
I finally got a deer with my bow. That's all the only one we've got. The deer numbers seem to be down quite a bit this year. We've found a couple new hunting buddies and are smoking some deer polish sausage as I'm typing this. Next weekend is the last chance Hubby will get to try his luck at getting a buck before Kansas doe season starts on Jan 1st. A bunch of us are going to get together doe season and do some walking in some woolly creek bottoms. We haven't got many deer but its ben a lot of fun. We found a couple new hunting spots for next year that look promising. I can't wait.
Well my son got his first deer ,a 130 lb four point with a nice 167 yard shot with his 257 roberts,and I shot my second over 200 lb eight pointer in three years of each other with my t/c encore w/i 150 yards apart.Freeezer is looking pretty full for ice fishing season.
B&C 200 Class
Join Date: Nov 2007
Location: Oregon, Ohio
Posts: 8,458
5 so far this season. 2012 was a good year!
got a nice 3 1/2 year old 7 point (brow tine broke off) and a button that I thought was a doe. Shot them both within 5 min of each other on the second Saturday of rifle season.
---
James 1:2-8
B&C 100 Class
Join Date: Sep 2010
Posts: 68
Here is the one I have gotten so far. Have til the end of this month to hopefully get one more. This one weighed 165 pounds.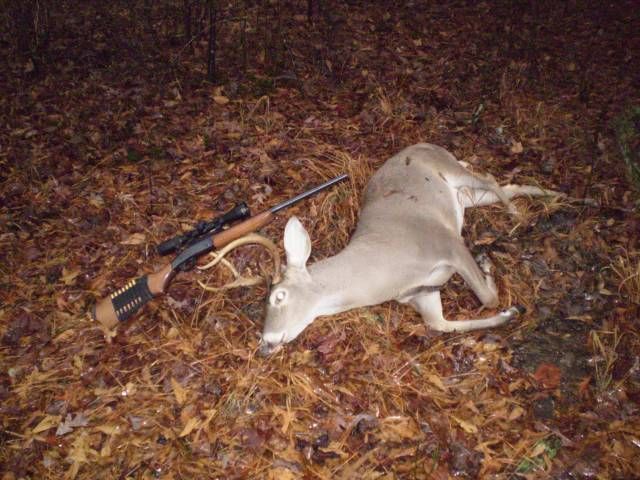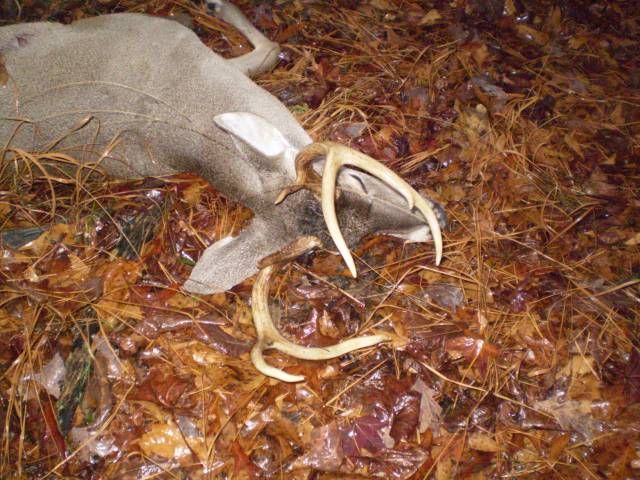 ---
(Luke 11:21 KJV) When a strong man armed keepeth his palace, his goods are in peace:

(Luke 22:36 KJV) Then said he unto them, But now, he that hath a purse, let him take it, and likewise his scrip: and he that hath no sword, let him sell his garment, and buy one.
Got two doe and a small eight point. Got pictures of them all, even with my 'famous' wheelbarrow in the background just to get an idea or their size. Will have to get them dragged off of my cell phone and onto the laptop just so I can share them.

RR
Just 1 for me this year NY bow hunt 8 pointer
---
2017 Bow String Depot Prostaff http://www.bowstringdepot.com/
Remember when posting what may seem innocent to you may not to others,
text shows NO emotions so please,,, don't take it personal & automatically go on the defense.
Take it w/ a grain of salt, take it as a joke or just let it go.
I got 4 does, 2 bucks and a Tom turkey 24lbs 10" beard all with my PSE
.X-force.T
he 5 point half rack drop tine was a last day last night of a Missouri managed deer hunt.The mid 120s 8 came from southern Missouri.I would have never killed that half rack on any other property.He was to young and had great potential but we where brought in to thin down the heard.I tried to kill a big boy for 3 week and on the last day took him
---
Last edited by Bud; 01-23-2013 at

07:30 AM

.