B&C 120 Class
Join Date: Nov 2011
Location: Southeast
Posts: 295
Season off to good start
---
I guess my season is going nicely. I have been to the woods three times and have two deer and a turkey in the freezer. I have also found a new dandy of a broadhead. I used a 100-gr NAP Killzone to kill alll three. I mean, I used the same head, same arrow for two deer and the gobbler. And , it is still shaving sharp. The entrance and exit holes are huge and the blood trail massive. They are also pricey as all get out.
If it will help, both deer were feeding on white oaks and persimons. Both were killed between 5 and 6 in the evening. I shot a small doe and the gobbler just about 40-minutes apart from the same stand. As you can see, I am a big believer in camouflage. The stand for this double is 8' off the ground.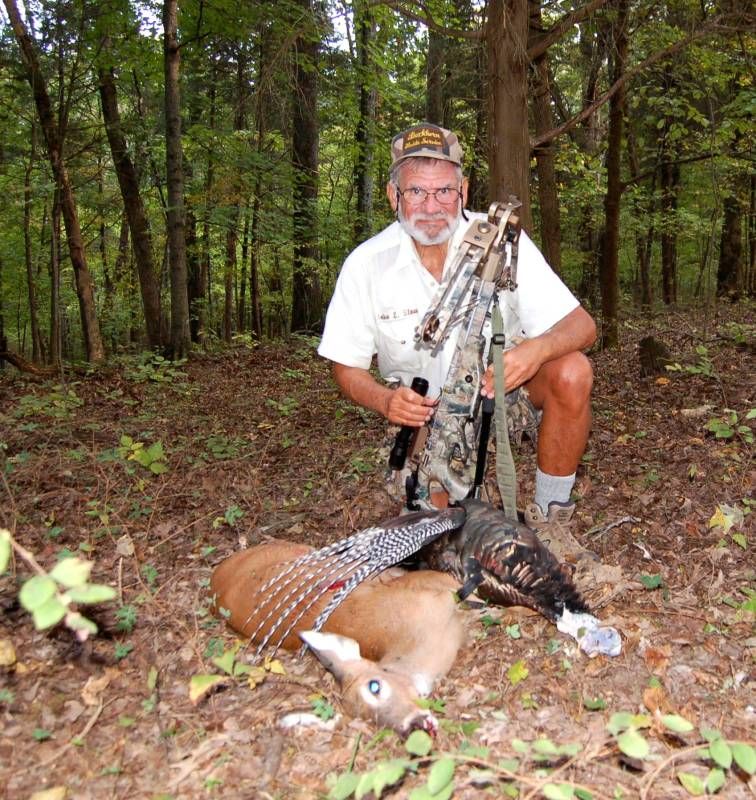 Hope all is going well for all of you.
Congrats Mr. scribe that's a great evening in the woods right there. I wish they would give up some turkey tags in my county, I have the damn things all over me. Had five big Toms come by Saturday morning and just had to watch them go on by.
---
If your to busy to go hunting, your just to busy.
B&C 200 Class
Join Date: Nov 2007
Location: Oregon, Ohio
Posts: 8,458
Big congrats! Looks kinda warm there. I leave Wed morning for Upper Michigan and hope I need full camo
B&C 120 Class
Join Date: Sep 2010
Location: Lititz,PA
Posts: 271
Way to go! I've never used a crossbow.How far were the shots?
B&C 120 Class
Join Date: Nov 2011
Posts: 269
Great way to start out the season.
B&C 120 Class
Join Date: Nov 2011
Location: Southeast
Posts: 295
Quote:
Way to go! I've never used a crossbow.How far were the shots?
I have killed three so far this year. Distances were 32-31-22. The farthest I have ever killed one with a crossbow is 36. Range no greater than a compound, maybe not as far in terms of trajectory.
If I had a choice, I wouold still be shooting a compound. However, I have no right shoulder. The Xbow allows me to still bowhunt even if it is a royal pain to lug around and is impossible to shoot hard right or hard left.
Wow! Nice start! I am still waiting for the season opener (Oct. 1). I too hunt the early season in shorts and a t-shirt, but it is camo. That is impressive to get the deer in close with that blaze white shirt....
---
John Eitzen
B&C 120 Class
Join Date: Nov 2011
Location: Southeast
Posts: 295
The count is now four deer and two turkeys. Had a cold spell and the deer moved well. Thelast deer I shot I had a high entrance and low exit. many times, you get little blood in that situation. Fortunately, I had plenty. I love these new NAP Killzone broadheads...except for the price
Thirsty yard shot and she ran 50-yards. Fell wihtin sight of the truck and a stream of blood all the way. Good morning all arouond. I was in the stand 90-minutues.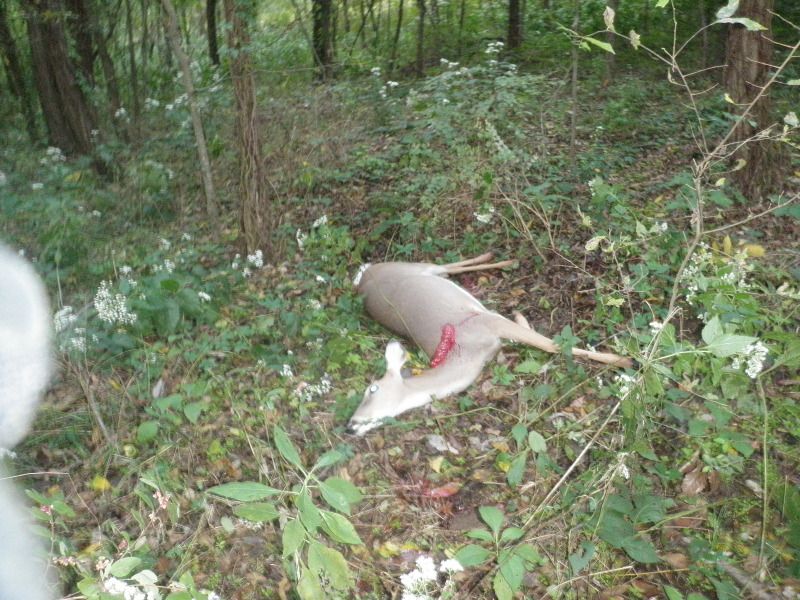 Congrats on your great start to the season. I was working when that cold snap hit us in TN but every morning when I was going into work I was thinking it would be a great day to be walking into the woods.




Congrats you are piling them up fast