Scrub Buck
Join Date: Nov 2011
Location: Montana
Posts: 13
2 Does in 5 days
---
Well I hadn't had much luck bowhunting this year. My goal was to get a bull elk with my bow, but I had mistake after mistake and blew 5 good chances at elk. Fortunately I got a nice bull down the opening week of rifle season. After tagging out all my rifle tags I had some doe (bow only) tags to fill and did so in 5 days. I'm stoked to say the least!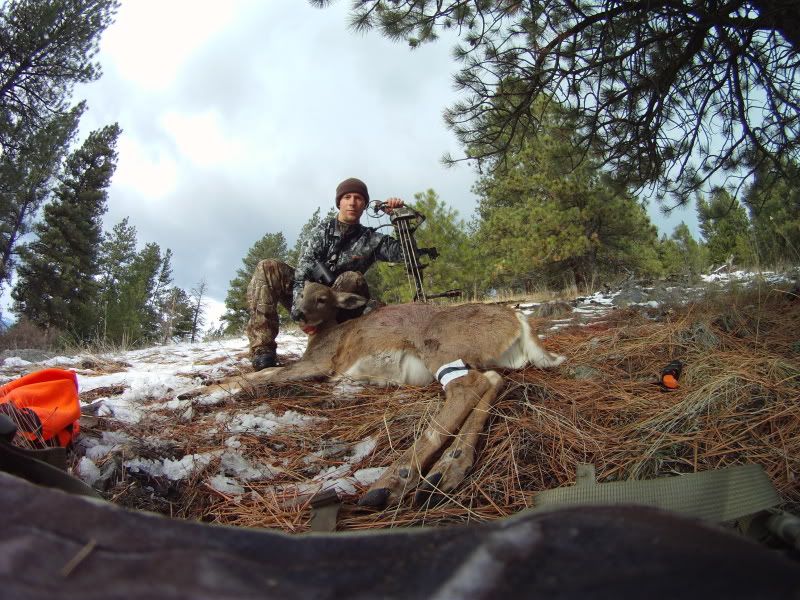 The first doe was taken in a spot I had seen whitetail frequenting fairly often. I was hunting solo and spotted some doe's rounding a ridge. I used some trees to separate myself from the two deer and snuck to 47yards. I settled my pin and knocked the deer right off her feet!
My next doe was taken the final day of rifle season here in Montana. I sat in a tree stand I had setup previously and passed a nice buck (already tagged a buck) right before I shot this doe at 23yards. She ran 25yards before she was done.
For more info and videos of my hunts check out:
montana wild
---
Last edited by montana_wild; 11-28-2011 at

09:40 PM

.
Congrats on what sounds to be a very successful season
---
2017 Bow String Depot Prostaff http://www.bowstringdepot.com/
Remember when posting what may seem innocent to you may not to others,
text shows NO emotions so please,,, don't take it personal & automatically go on the defense.
Take it w/ a grain of salt, take it as a joke or just let it go.
Great job, and nice pics! thanks for sharing
---
James 1:2-8
Scrub Buck
Join Date: Nov 2011
Location: Montana
Posts: 13
Thanks guys. I am very pleased with my season and can't wait for next season!
all in all, its meat for the freezer.
congrats
---
PSE 2006 FIRESTORM LITE #70
PSE 2009 TREESTAND GX #70
PSE 2010 1/2 AXE 6 #60
PSE 2011 EVO #70


The Devils Advocate

Revelation 22:17