My youngest first deer this November!!
---
I'm not sure who was more excited over my son's first deer me or him. I grew up with no one to show me how to hunt. My dad only fished but I loved to hunt the small stuff when I went back to VA to visit my grandparents. I didn't even shoot my first big game animal until about 5 years ago. This was a big deal for me to see him harvest his first deer. Unfortunately my oldest son (17) didn't get one this year. I'm sure this is going to continue for many years to come.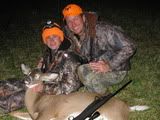 ---
Last edited by Huntin Fireman; 12-14-2009 at

09:51 PM

.
nice job. can't tell who's smile is larger. lol. good job young man and dad.
Scrub Buck
Join Date: Dec 2009
Location: Oregon, Ohio
Posts: 17
Congrats to your youngest on his first deer... Great picture
Moderator
Join Date: Nov 2007
Location: Oregon, Ohio
Posts: 8,383
Congrats to your son and thats a great shot of Dad and Son!
Awesome.. Great job both of you..

Add that pic in our contest gallery for youth sportsmen.. He can win a $100..
Join Date: Jan 2007
Location: Vermont
Posts: 5,701
Ohhhh this is just the beginning for you Dad,
he's hooked now.
Congratulations to you and your son!!!
---
Democracy is two wolves and a lamb voting on what to have for lunch.
Liberty is a well-armed lamb contesting the outcome of the vote.
-Benjamin Franklin

Lookin' at the picture, I think that dad's smile is bigger than his son's. But that's just me!

Congrats to the son for baggin' the deer, and bigger corngrits to dad for passing on the love of hunting to both of his sons. Too many parents these days don't have time for their children and it warms my heart to see pictures like this.

Again, congrats to both father and son!
Awesome deer guys! I can't wait until my 2 y/o is old enough to hunt! my wife thinks 7 is a good age,,, i'm thinking maybe 6.... :)
---
James 1:2-8