My first turkey
---
THIS IS MY FIRST EVERY TURKEY.HARVESTED IT ON MAY 2ND.18LB WITH A 8 3/4 IN BEARD.LOCATED HIM WITH AN OWL CALL.PUT THE DECOYS OUT STARTED CALLING AND HE CAME A RUN'IN EXACTLY 1/2HR STARTED CALLING AT 5:15 AND HARVESTED HIM AT 20YRDS AT 5:45.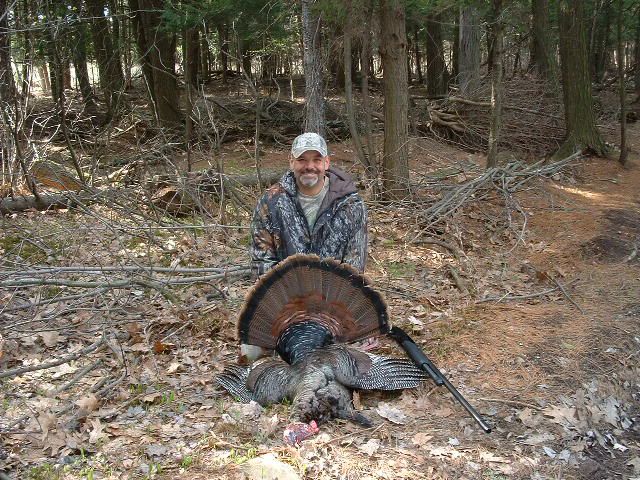 ---
GRAB LIFE BY THE HORNS
---
Last edited by BruceBruce1959; 05-16-2009 at

08:49 AM

.
Moderator
Join Date: Nov 2007
Location: Oregon, Ohio
Posts: 8,381
nice job! Success is rewarding
Awesome turkey and great hunt. Congrats on your first bird and many more to follow.
thanks guys it was a really good memory.i got a plaque for the tail feathers and beard.it should look good when its done.thanks again.
---
GRAB LIFE BY THE HORNS
Join Date: Jan 2007
Location: Vermont
Posts: 5,701
Awesome Hunt!!! Congrats to you on your 1st. Turkey,...
---
Democracy is two wolves and a lamb voting on what to have for lunch.
Liberty is a well-armed lamb contesting the outcome of the vote.
-Benjamin Franklin

congrats. hope there are many many more
There's nothing like a first.. Congrats
Great job congrats on the bird
first one is always the best
Awesome bird, your smile say's it all. Congrats. I remember my first bird, i was so excited i could barely speak!!!
Scrub Buck
Join Date: Sep 2009
Posts: 1
---
Great job dude!
It seems that you are professionally practiced hunting wild animals.
Nice photo!