Scrub Buck
Join Date: Oct 2007
Posts: 11
17 hmr?
---
Hey everyone, I bought a 17 hmr for some good, accurate, target practice but i was wondering if it would be suitable for small game hunting as well. I heard that it ruins alot of meat but does anyone think they will design some stronger, heavier bullets for it that wont "explode" on impact? I hope so
Scrub Buck
Join Date: Oct 2007
Location: Walnut,Illinois
Posts: 29
I all know is that my dad and i have both the 17 and the 17 rimfire. Both guns are dead on. The 17 at 300 yrds for coyts and the rim fire at 100 mostly for target but also coyts.
B&C 100 Class
Join Date: Oct 2007
Posts: 51
all i know is that my 17 hmr has put alotttt of meat in the freezer
B&C 100 Class
Join Date: Nov 2007
Location: kenosha, Wisconsin
Posts: 92
can honestly say that i havent ever touched a 17 hmr but plan on gettin one soon for squirrels and coyotes.. but from the things i hear and have seen the 17 is expensive as heck to shoot..
---
DONT HURT EM.... HOYT EM!!!

work to live
live to hunt...
---
Last edited by buckfever; 11-29-2007 at

10:37 AM

.
what grain bullet are you shooting iam getting a 17 soon and i was wondering what kind you have iam still deciding what gun to get
Join Date: Jan 2007
Location: Vermont
Posts: 5,701
Because the .17 calibers have become so popular I thought it would be a good idea to note the difference between the two different .17 Calibers.
One is the .17 HMR (Hornady Magnum Rimfire)
The other is the .17Mach2 sometimes called a .17M2..
You can see by cartridge comparison the relationship to the .22 Calibers

The Bottom line is simple, the .17M2 and the .22LR were designed for small game out to 100 yards.
While the .17HMR (Hornady Magnum Rimfire) and the .22WMR (Winchester Magnum Rimfire)
were designed for small to med. game at longer ranges.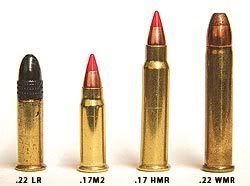 ---
Democracy is two wolves and a lamb voting on what to have for lunch.
Liberty is a well-armed lamb contesting the outcome of the vote.
-Benjamin Franklin

thanks for clearing that up BB.
---
Now therefore take, I pray thee, thy weapons, thy quiver and thy bow, and go out to the field, and take me some venison.
Genesis 27:3 "The thinking deer hunter should mature through three phases during his hunting life. First phase, "I need to kill a deer." Second phase, I want to harvest a nice deer. And last phase, we must manage this resource so our children and their children can experience the grand tradition of good deer hunting." - Jim Slinsky
Scrub Buck
Join Date: Jul 2009
Posts: 1
hey bro i ve killed a lot of rabbits and if u hit in the right place it dont