17 mach or 17 hmr
---
whats the difference and witch is better for varmetts
B&C 100 Class
Join Date: Jan 2008
Posts: 37
the hmr is more powerful than the mach 2. id go with the hmr
Join Date: Jan 2007
Location: Vermont
Posts: 5,701
Because the .17 calibers have become so popular I thought it would be a good idea to note the difference between the two different .17 Calibers.
One is the .17 HMR (Hornady Magnum Rimfire)
The other is the .17Mach2 sometimes called a .17M2..
You can see by cartridge comparison the relationship to the .22 Calibers

The Bottom line is simple, the .17M2 and the .22LR were designed for small game out to 100 yards.
While the .17HMR (Hornady Magnum Rimfire) and the .22WMR (Winchester Magnum Rimfire)
were designed for small to med. game at longer ranges.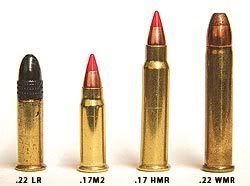 ---
Democracy is two wolves and a lamb voting on what to have for lunch.
Liberty is a well-armed lamb contesting the outcome of the vote.
-Benjamin Franklin