Moderator
Join Date: Nov 2007
Location: Oregon, Ohio
Posts: 8,383
300 Savage
---
Something to talk about. One of my pet favorite rifles is my Savage 99 in 300 savage. I have a 1951 EG model and it shoots with anything out there for accuracy. This is a great eastern deer cartrige and when shooting a 150 gr bullet goes out at 2650 fps with very mild recoil. I would call the 300 a classic now but it kill with authority, trust me on that one. Remington put the 300 sav in their classic rifle line up. I just didn't get one.
I have now added a 250-3000 sav EG 99 to the vault and hope to one day see how it hammers a deer. It's a 1948/49? with great wood.
HM: I also have a '99 in 300 Savage with a Redfield 2x-7x Widefield on it, both are 1969 vintage. I used to take it to Wyoming deer hunting, it was nice to carry and as you said plenty of sauce and good accuracy.
B&C 120 Class
Join Date: Nov 2011
Location: Southeast
Posts: 295
One of the best all-around rifles of all time. I have a 99 in .308 and have shot it for many years. One of my friends is the CEO of Savage and he tried to buy my gun a few years ago. I think he knew something I didn't. I wonder why no other companies ever copied the rotary magazine? One of the most accurate rifles I own.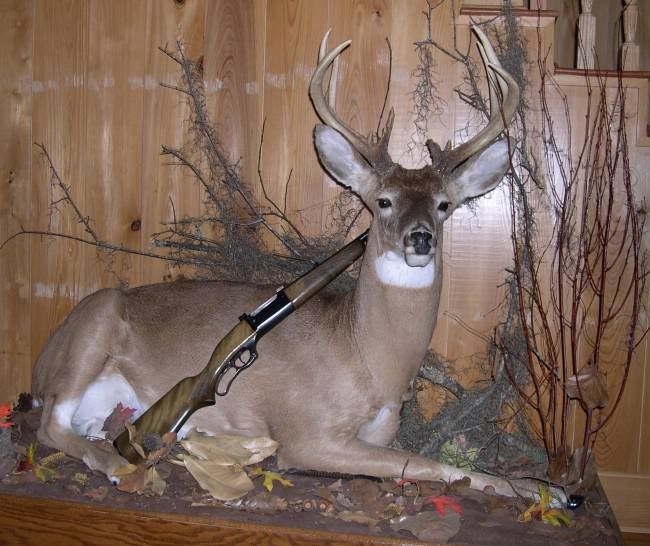 ---
Last edited by scribe; 12-06-2011 at

04:18 AM

.
My dad has a 300 savage great gun my brother killed is 1st & only deer with that ole lever action open sites over 100 yards 1 shot 1 kill
---
2017 Bow String Depot Prostaff http://www.bowstringdepot.com/
Remember when posting what may seem innocent to you may not to others,
text shows NO emotions so please,,, don't take it personal & automatically go on the defense.
Take it w/ a grain of salt, take it as a joke or just let it go.
B&C 120 Class
Join Date: Sep 2010
Location: Lititz,PA
Posts: 271
99 savage
---
My son-in-law inherited an old model 99 in 250-3000.It was in rough shape.We got it sighted in and on his first deer season,he killed a very nice 6 point with it.After that,the accuracy went to heck.Its from the 1920's and is just a wallhanger now.One thing we learned,due to the rate of twist,that old rifle was only accurate with an 87 grain bullet.Anything heavier would not stabilize.
---
Last edited by 3212; 12-06-2011 at

08:27 AM

. Reason: More information
Scrub Buck
Join Date: Nov 2011
Posts: 5
I inherited a couple of 99's. I've killed a couple deer with the 60's vintage 308. I love it. This year in the late season I plan to use the 1939 300 Savage on a couple of antlerless deer. It's a takedown model and I don't have any plans to mount a scope. Just plan to use it occasionally then pass it down to my kids. My daughter has a Marlin lever action in 30-30 that I passed down to her. She's killed a lot of deer with that gun including a nice whitetail 2 years ago and a 6x6 mule deer this year. I want to post pictures when I figure out how. Love those lever actions! Marty
Moderator
Join Date: Nov 2007
Location: Oregon, Ohio
Posts: 8,383
I purchased some custom loaded bullets for the 250-3000 using Nosler BT 100 and 115 gr bullets, and Rem factory 100 gr all shot very well averaging 1.5" at 100 yds. I didn't have time to dial in any of these just was first range time and was pretty pleased. That 115 gr Nosler should wreck havoc with PA whitetails if I ever decide to rifle hunt there again.
Moderator
Join Date: Nov 2007
Location: Oregon, Ohio
Posts: 8,383
Scribe it would take big money to get my 250-3000. I put a 4x12 Pentax on it as it could be a great varmit combo. I agree the 99's are one of the very best designed/built rifles ever! They still command stiff prices for clean ones in standard cal. Go the limited models or like the 284 cal ones and dust off the wallet. Anyone thinking of adding a 99 to your collection, you would not regret it. Do your homework and be patient.
B&C 140 Class
Join Date: Nov 2009
Location: Minnesota
Posts: 850
It would be smart to build the Savage 99 lever again
---
I read the line from scribe above `One of my friends is the CEO of Savage' and have to wonder, did you ask him when are they going to retool for it? With modern milling systems what once was to cost prohibitive is now not a big deal. The labor costs were the issue before, today the computer will do whatever you ask once it is programmed. The Model 70 Winchester pre 64 classic would not have come back without modern milling. I personally think that shooters would buy a modern version of the Savage 99. Savage needs to not worry about keeping the price of it down, just make it something that is worth spending a premium price on. Same idea that Ruger uses with the Ruger Number 1, it isn't cheap but it is worth the price.

Karl
Moderator
Join Date: Nov 2007
Location: Oregon, Ohio
Posts: 8,383
No question some of us would buy a new 99 Karl. We have the history to believe in them. The younger generation would have to be convinced of it's quality in-order to survive today. With today's modern tooling I can only imagine a 2012 Savage 99 in 284 cal with fancy walnut to boot. I'm drooling right now. I would look into the vault to discard a few just to purchase a new model 99. Maybe DHC might be the place to start to pressure someone to look at such a dream rifle!!!
Scribe should have the inside tract.