Scrub Buck
Join Date: Oct 2011
Posts: 6
Big Buck? Opinions Please
---
I cought this buck on camera for past two weeks at my family land. This is my first year hunting and my first buck i have crossed paths with. Any clue what he would score? Should I take him this year if possible or wait till next?
There is two scrapes about 25 yards to the right of the camera, Doesnt look like they have been messed with much. But they have been there sence eairly September.
Also on October 5th when he comes through in the picture he makes a fresh rub on one of the sapling trees right infront of camera.
I have put corn down and a mineral lick where the camera is facing to bring in some pics.
Any suggestions or opinions would be greatly appericate. Just wondering if this is gonna be a decent place to put a stand up and maby he might come back through.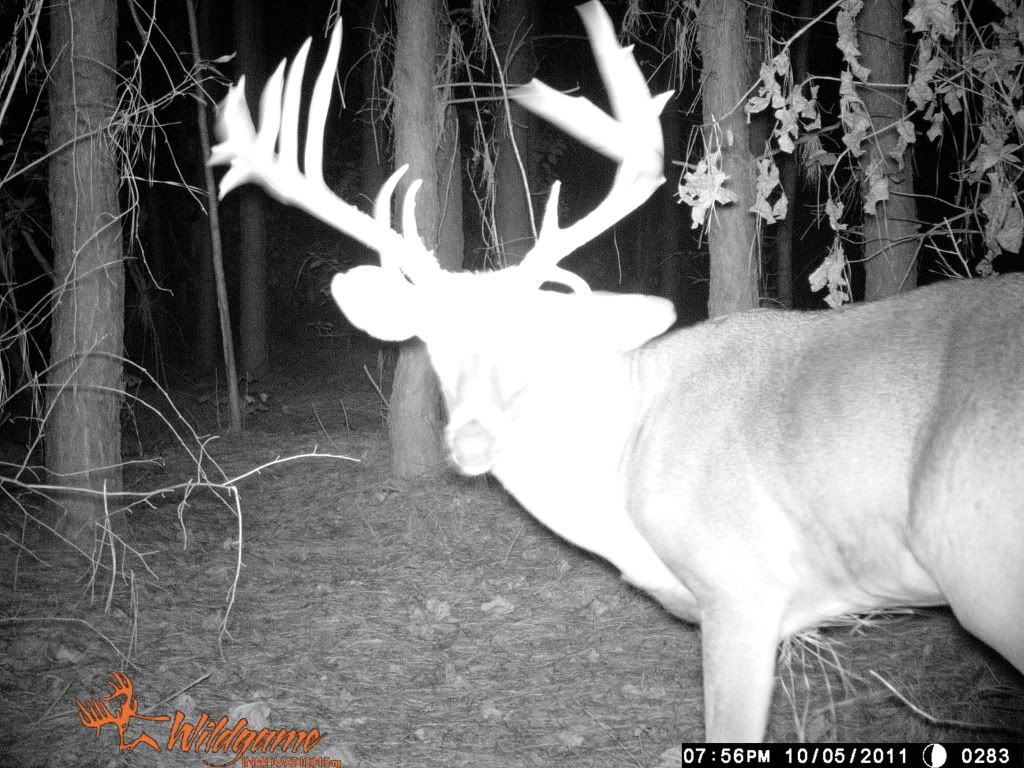 DUDE! HECK YES he's a shooter! I would say he's either 4 1/2 or 5 1/2 year old. He's tall and wide and he's DEFINATELY a buck I'd shoot. He'll be a mounter! I would guess him to score around 160 - 170 non-typically.

Wish I was huntin' where you're at!!!! Good luck and let us know when you get him!
---
James 1:2-8
What tator said times 1702358701451...

Shoot it. You may never get a bigger one the rest of your life.
B&C 100 Class
Join Date: Oct 2011
Location: San Antonio Texas
Posts: 46
If you get a shot take it, dont expect buck like that to come around to often most have to hunt for many years to harvest a buck like that. Be careful placing your stand. A old buck like that doesnt get that old by being dumb if you can place your stand farther away but where you can still take a shot.
B&C 100 Class
Join Date: Oct 2011
Location: Missouri
Posts: 34
.........or you can send him my way!!!
Good luck on the hunt!
Scrub Buck
Join Date: Oct 2011
Posts: 6
Thanks for input. I will definitely be in the woods every morning and afternoon till I get him. I hunt in upper South Carolina so I dont think the rut will be in for another 3 weeks or so if im not mistaking from what I have been told. Ill definitely take the advice and set up somewhere off his couple scrapes I found about 40 - 50 yards back. Hope he does come out. I would love to drop him for my first buck kill. I would consider myself very fortunate. Another big reason is its my grandads land im hunting on and would be nice to have a buck off my family land to remember for a long time down the road.

Thanks guys
B&C 140 Class
Join Date: Nov 2009
Location: Minnesota
Posts: 850
Stop shaking and shoot
---
I haven't had the problem that you are going to have with this beauty, just SHOOT. I always look for antlers and if I see them I am looking for a shot. This big boy will be wonderful on your wall, we expect to see a picture posted with a big smile on your face.

Karl
B&C 100 Class
Join Date: Sep 2011
Location: Tijeras, NM
Posts: 189
I'm a meat hunter so I say SHOOT! He's nice. Looks like a non-typical?
who cares what he scores thats a big buck and I would shoot him any day