A good day hunting
---
Hunted on a private ranch yesterday. We were looking for elk, but started seeing lots of deer tracks in the snow. I had my friend set up where I thought the deer might come out of the spruces while I moved back a bit and started grunting and using a doe bleat. Within10 minutes, I saw a nice buck coming toward me from behind. I think he was trying to get down wind of me. Anyway, when he was about 50 yards out, I nailed him square in the chest with my 300 WSM. Now, back to the elk hunting.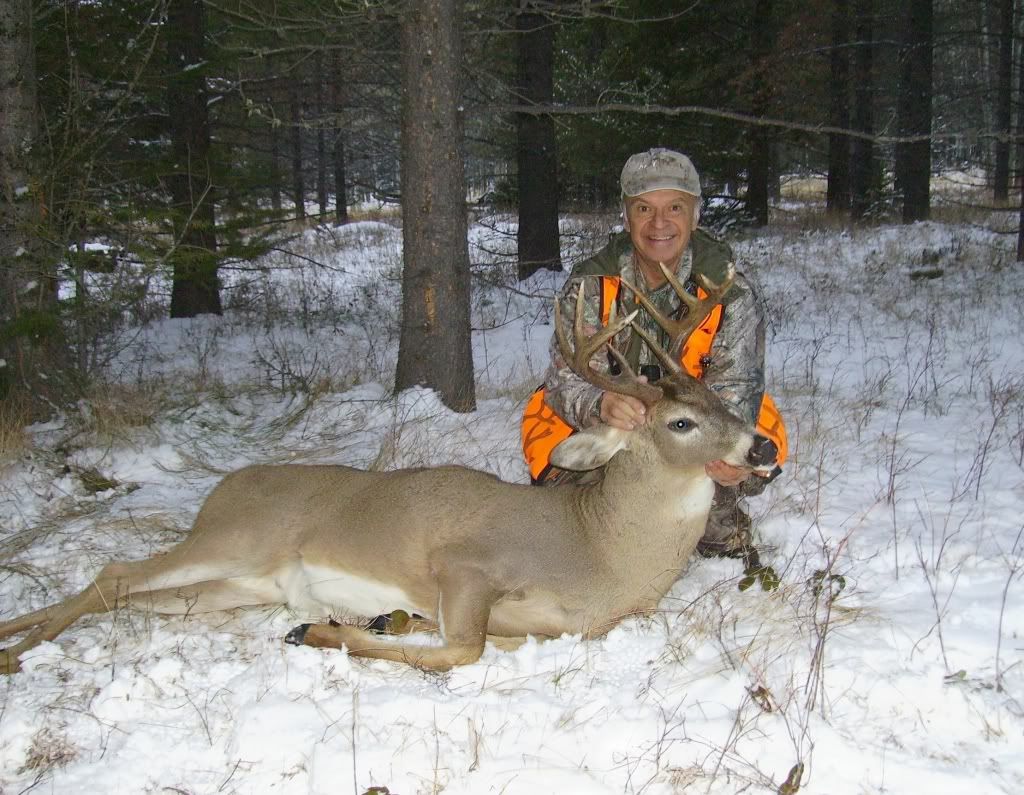 Great deer Onehorse. Congrats!
Moderator
Join Date: Nov 2007
Location: Oregon, Ohio
Posts: 8,380
onehorse, what a great buck, looks like nice hunting weather you got there. Congrats!!! Good luck on the elk. The PA boys got 2 bulls in Colorado last month.
great deer was wondering where you've been
---
Now therefore take, I pray thee, thy weapons, thy quiver and thy bow, and go out to the field, and take me some venison.
Genesis 27:3 "The thinking deer hunter should mature through three phases during his hunting life. First phase, "I need to kill a deer." Second phase, I want to harvest a nice deer. And last phase, we must manage this resource so our children and their children can experience the grand tradition of good deer hunting." - Jim Slinsky
Way to go Onehorse, good to hear from you too stranger LOL.
Very nice deer man..
I would love to be in that situation.. "Well we was actually hunting for elk but seen some good deer sign so we set up and got this brute."
Thats awesome, congrats on the deer.
Wow, great buck! I guess that's one situation where you don't mind deviating from the plan.
---
John Eitzen
What a NICE buck, Congats. Now go get a elk and show us some pics!!!
Does that buck have blue eyes??? Or am I a total wack job?!?!?!?
the eyes look blue down here...nice buck onehorse.