B&C 140 Class
Join Date: Nov 2009
Location: Minnesota
Posts: 850
Used rifles aren't like used Cars/Trucks
---
I really like buying new firearms. Having said that it is very easy to tell if the previous user was a moron with his/her firearm. Huntingman is right as always, that your money will go farther on a used firearm. The big advantage that I see is you will normally get the optics for free. For example say the used rifle package cost 600.xx new rifle cost is 700-800 dollars, a lucky person gets a Leopold vx2 or vx3 worth new another 200-400 dollars for free. A rifle isn't usally re-blued after abuse most owners just sell them off. Some owners treat their rifles like canes or boat oars, we have all seen those on tables at gun shows. Bottom line I still would rather pick up new ones but wouldn't worry about a used one.

Karl
B&C 140 Class
Join Date: Nov 2009
Location: Minnesota
Posts: 850
One caviot about used rifles
---
One note I just remembered from a guy at the range one day. He was shooting a new rifle that was not grouping well. The rounds were not settling down. After shooting probibly 20-40 rounds through the rifle he offered up that the rifle has an issue and he was going to trade it off next week at the gunshow. I think personally that the rifle just had a bedding issue. It needs to be in your mind you could be purchessing a problem from someone else that they didn't want to deal with. Most quality rifle companies will fix their rifle if it has a defect that should not have made it out the door. A new rifle can always have a probem it is always a posibility.

Karl
Savage rifles!

Savage puts out some pretty good rifles if you get the kit. I have a left and right handed Model 110 in .270 Win, primarily because I have two sons, one a lefty and the other is right handed. I've used the left handed one for the past two seasons, six rounds and six deer in the freezer. Didn't even bother re-checking the scope this year finding that it was dead on (pardon the pun) when dropping the first deer of the season.

I wouldn't recommend the Axis or 'cheep' (alright, so it's supposed to be spelled 'cheap') model because you simply get your $$ worth paying the extra ~ $130 or so to get one of the model 10's (short action) or 110's (long action). (Accutrigger/Accustock/etc.)

But that's just one man's humble opinion on the subject. Ain't it great that we are still able to talk about even having all of these different rifles??? Or at least we can at the moment. Won't take any bets how much longer though as long as we keep this same regime in office.

RR
B&C 100 Class
Join Date: Sep 2010
Posts: 68
You don't have to spend a fortune to get a decent rifle. Here is mine. It is a NEF Handi Rifle in .30-06. Six years ago I paid a little over $200 for it NIB with a Tasco 3-9x scope. I used that scope for a couple of years and then replaced it with a Nikon Buckmasters 3-9x40. I have now fired that rifle eleven times at deer and one time at a coyote and have put eleven deer and one coyote on the ground. The range varied from 25 to 125 yards.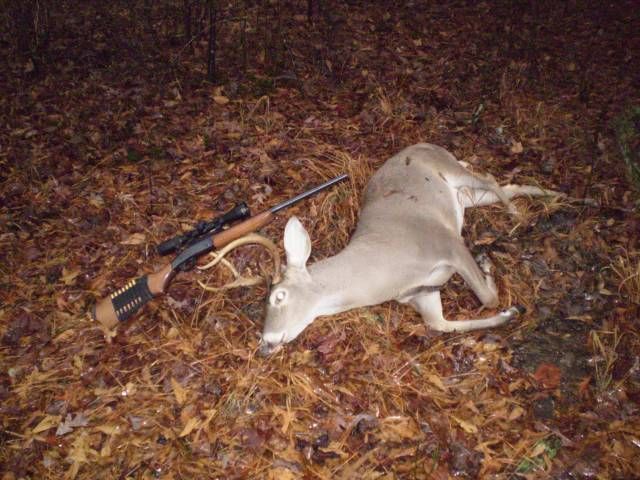 ---
(Luke 11:21 KJV) When a strong man armed keepeth his palace, his goods are in peace:

(Luke 22:36 KJV) Then said he unto them, But now, he that hath a purse, let him take it, and likewise his scrip: and he that hath no sword, let him sell his garment, and buy one.
B&C 140 Class
Join Date: Nov 2009
Location: Minnesota
Posts: 850
Modern Rifles/Scopes are a solid choice...
---
I will admit to being a rifle and scope snob. Does the rifle have to cost alot? No it doesn't a case in point is the Marlin XL7s or XS7s. These work very well for a price point 50% of what I would normally steer someone toward in a rifle. Same thing applies to scopes, I am a Leopold Man and proud of it. I think that their high end line VX3 and up are some of the finest offered by anyone. Having said that I like the Redfield Revolution line, these are really good for also 50% of what a Leopold VX3 will cost you. Using my example is the end user giving up some performance with say a Marlin XL7 with a Redfield Revolution mounted on it. Yes - the plastic stock is nothing to be happy about. There isn't a dropping floorplate and the Redfield is not a one piece tube scope. Will the Whitetail know the difference, nope.....


Karl