B&C 100 Class
Join Date: Sep 2010
Posts: 68
Got one today!
---
I didn't hunt this morning because of the rain. It had tapered off to a mist by this afternoon. I made the 300 yard walk to my shooting house without getting too wet. I got settled in about 1:40. The temp was about 48 with a misting rain. About 2:30 this buck walks out of the brush on the opposite side of the property line fence. He walked up to the fence and jumped it onto my side. He gave me about a 40 yard broad side shot. The rifle is a NEF Handi Rifle in .30-06 with a Nikon Buckmasters 3-9x40 scope. The bullet was a Remington 150 grain CoreLokt. The shot was through and through. It made a small hole going in and a large hole coming out.
One thing I don't understand is the negative posts on this and other forums about the Remington CoreLokt. They have worked great for me. I have fired this combination ten times at deer and one time at a coyote and have put ten deer and one coyote on the ground.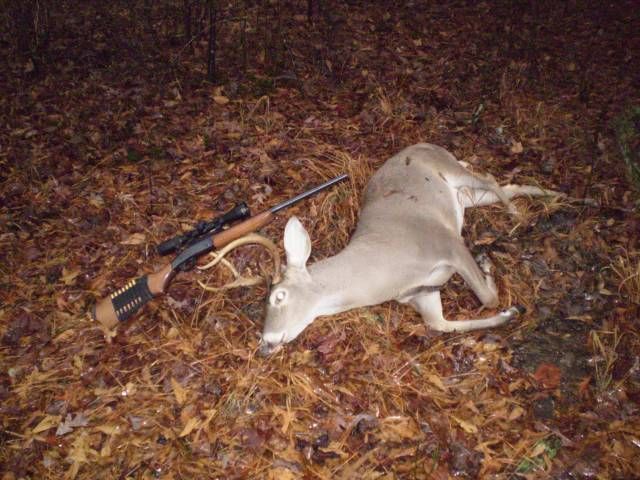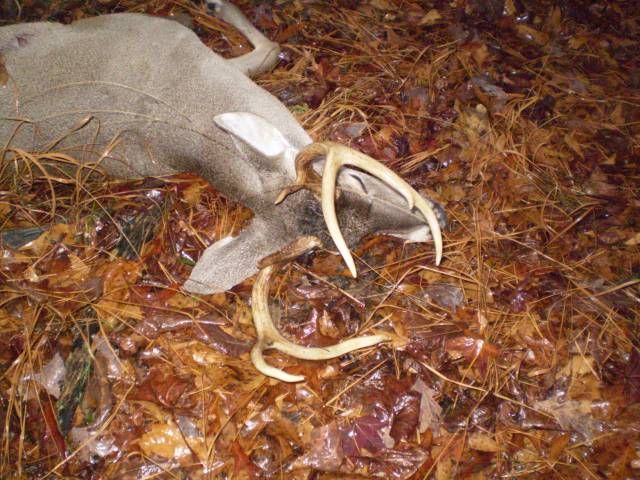 ---
(Luke 11:21 KJV) When a strong man armed keepeth his palace, his goods are in peace:

(Luke 22:36 KJV) Then said he unto them, But now, he that hath a purse, let him take it, and likewise his scrip: and he that hath no sword, let him sell his garment, and buy one.
Congrats on the deer !
And as far as the core-locks, I also have shot them for a few years now and put a lot of game down with them, but still have had issues with them not opening out. I've killed many deer I could put my pinky finger in both the entry n exit hole.
Join Date: Jan 2007
Location: Vermont
Posts: 5,701
Congratulations! that's a great looking Buck..
---
Democracy is two wolves and a lamb voting on what to have for lunch.
Liberty is a well-armed lamb contesting the outcome of the vote.
-Benjamin Franklin

Moderator
Join Date: Nov 2007
Location: Oregon, Ohio
Posts: 8,380
congrats on a fine buck. I have had 1 Rem bullet fragment in almost 40 years of hunting that required a second shot. I use them every year including their sabot slugs for shot guns. When I go out west I do up-grade bullets to either Nosler or Swift-A-Frames but for everyday deer hunting the Remington line of bullets are fine, no argument here.
Nice buck there! I use the springfield .30-06, 150 grains Rem core-lokt. I have never had a problem with them---- but then again I didnt know people were having a problem with them??
---
James 1:2-8
Great hunt and pic!!!! Core Loks work well for me. Never had an issue with them and use only those in 165gr for my 06.
B&C 100 Class
Join Date: Mar 2012
Location: Levittown NY
Posts: 36
Nice Deer! Use what you have confidence in!!!!!
Bash Remington Core-Lokts??? Here??? Naaahhh!!! Can't be . . . .

Have used Rem Core-Lokts for over a decade. The only times the Core-Lokts have failed to bring down a deer weren't the fault of the ammo being used - primarily the fault of the nut behind the rifle's buttstock.

With steady aim, breathing control, and trigger squeeze, Core-Lokts are a one shot - one kill round.

RR