Scrub Buck
Join Date: Nov 2011
Location: Montana
Posts: 13
2011 Cactus Buck?
---
Shot this mule opening day here in Montana. Was surprised to see he was still in velvet and I couldn't be happier to have such a unique buck! for more pics and complete story check out my blog at: montanawild.wordpress.com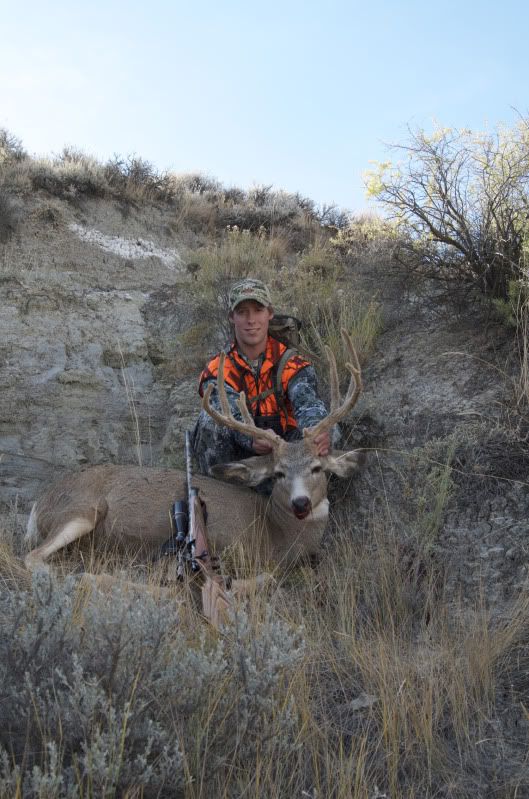 well now that you're a member, post that story and other pics ON HERE!!! After all this IS the "DEER HUNTERS CLUB"....
---
James 1:2-8
Scrub Buck
Join Date: Nov 2011
Location: Montana
Posts: 13
Opening morning of rifle season started at 3am and consisted of a 4 hour drive to get to our hunting spot. Zack, Tyler, Cole, and myself were all looking to score on a big mule deer. At first light we came across a group of mule deer off in the distance, but no bucks to be seen. I spotted a nice mule buck climbing an adjacent coulee. We quickly geared up, and worked around a ridge, hoping we would be able to cut-off the buck. Unfortunately we somehow misjudged how close we were and ended up bumping the buck twice over a couple more coulees. Tyler and Cole decided they had seen enough and headed back to the truck, while Zack and myself wanted to get a better look at this buck. Zack was on the camera, while I carried the 6◊284 over my shoulder. After reaching the top of the ridge, I spotted the deer at 300yards. I dropped to the ground and got a good rest on my backpack. The deer was in full velvet! Unfortunately, I still couldnít decide if the deer was a shooter, and the deer quickly made his way behind another ridge.
We didnít see many deer the remainder of the morning and decided to trek back into some deep coulees, where we thought the deer would be bedding with the 30mph wind gusts we were having that day. We hiked almost 2 miles up and down through the cactus and desert brush before getting to a nice outlook where we did some glassing. Zack spotted the same buck we had been chasing earlier just over 100yds away bedded down in some shade! We quickly put a plan together and I decided he was a very unique buck and I couldnít pass up the opportunity. The only problem was the deer was bedded down facing directly towards us. I was very confident with the shot at hand, but decided I needed to try and get the buck to stand in order to get a better view of his vitals. I setup in a somewhat uncomfortable position on the rock in front of me and got a steady rest. Tyler did a couple predator calls to get the buck to stand out of his bed. The buck stood directly facing me, his velvet glowing in the sun, I took my time settling the crosshairs on his chest and squeezed off the 108yd shot. Boom! The buck dumped right where he stood!
Checking the velvet
I was all pumped up and quickly made my way down the rocky hillside. It felt great to get my hands on such a nice deer and was my first time putting a tag on any animal in velvet.
Side view of the velvet
Montana Wild Crew
It was time to do the dirty work and get the deer quartered and pack him back to the truck 2miles away. After packing out Zackís elk just a couple weeks ago, this deer seemed like a breeze to carry out.
Enjoying the beauty of eastern Montana
Big thanks to Tyler, Cole, and Zack. Zack filmed the entire hunt, and I canít wait to show the amazing footage we captured this weekend. Iím in the process of Euro mounting the buck and will post pictures as soon as I finish. Big things to come from Montana Wild!
Great pics and congrats to you on a fine deer.
Now that's a story! One you'll never forget! That's awesome man, I hope I someday get to take a buck in full velvet! Congrats!
---
James 1:2-8
Great story about a great hunt. Congrats
I remember when I walked miles on end to deer hunt, now it's about 400 yards and I drive in to pick up the deer.
---
If your to busy to go hunting, your just to busy.
---
Last edited by Buckshot; 11-03-2011 at

04:39 PM

.
Scrub Buck
Join Date: Nov 2011
Location: Montana
Posts: 13
Thanks for the support. I'll post the video once I finish editing the footage.
Scrub Buck
Join Date: Nov 2011
Location: Alleghany County, VA
Posts: 5
congrats, great looking muley
---
J. Ty Edwards

Kill it, Skin it, Eat it. Hunting its not just a hobby its a lifestyle.
Great story and a great looking mulie!!

Thanks for sharing. This is what hunting is all about.

RR