Gift out of the blue
---
I had an uncle pass away last year that lived in Michigan that I had not seen or heard from in years. I get a call from a friend of his that passing through town and said he had something for me and would I meet with him. So I did and he gave me a pistol that my uncle had left to me in the will. I was floored and still am actually.
From what I can tell it is a great gun, some of you may know more about it but here it is. He also gave me a registration card dated 1963 from the city of Detroit where my uncle bought the gun new. The gun was made in 1962
model 1935 Browning High power 9ml with 2 clips.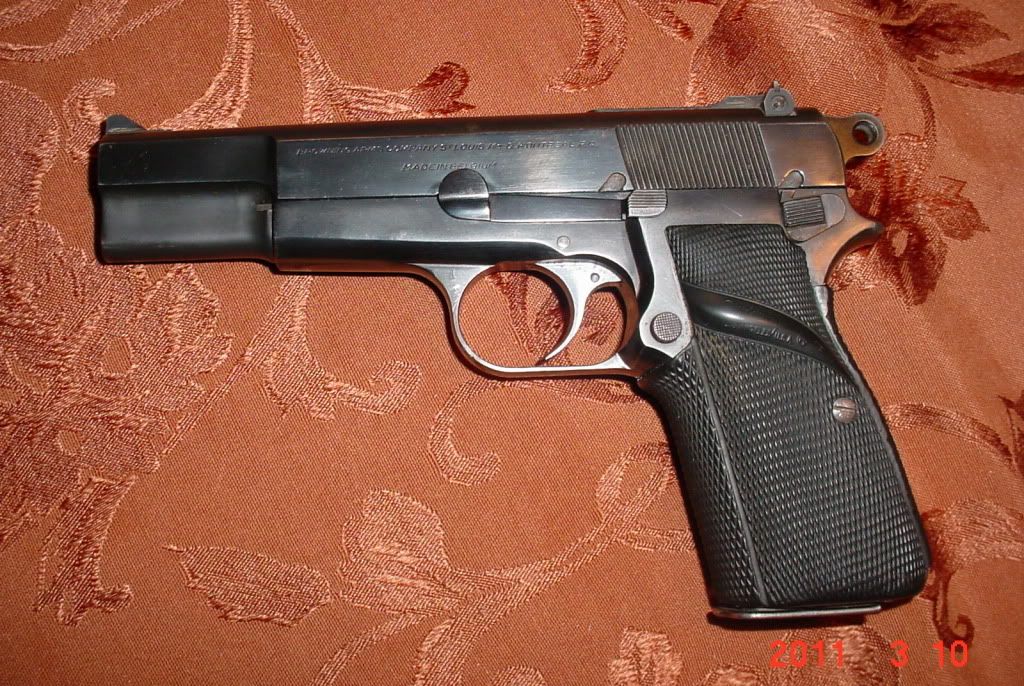 ---
If your to busy to go hunting, your just to busy.
SWEET!!!!!!!! bet you're gonna have some FUN!
---
James 1:2-8
B&C 100 Class
Join Date: Feb 2011
Location: Holland, New York
Posts: 90
That is neat that your uncle thought of you that way, must have had a special place in his heart
Moderator
Join Date: Nov 2007
Location: Oregon, Ohio
Posts: 8,381
Congrats Buckshot, on the gift. Very sorry that uncle passed away. Those pistols are very popular today and have pretty good value. BB has a cool suggestion on the engraving. Prior to my dad passing he had my brother and I over to his house and had us each draw a card, the highest card got to pick first, Me! As we went through the guns I got to my brother's favorite a model 94 Win in 30-30, knowing this I passed on it and chose another. I now have that one along with other's picked that day. I guess it's fitting and with great pride that families pass down their firearms. I'll follow that tradition too! Your uncle thought pretty high of you! It just sucks to loose family members, I can't stand it, just know it has to happen though.
---
Last edited by Hunting Man; 03-11-2011 at

03:54 PM

. Reason: add
Join Date: Jan 2007
Location: Vermont
Posts: 5,701
I'm sorry you lost your uncle Buckshot, and this is a great item to have willed to you.
If it were left to me I would have it engraved

"In memory of Uncle So and so, 19?? - 20??"
---
Democracy is two wolves and a lamb voting on what to have for lunch.
Liberty is a well-armed lamb contesting the outcome of the vote.
-Benjamin Franklin

B&C 160 Class
Join Date: Jul 2010
Location: new york
Posts: 1,115
---
Great piece from your Uncle and his memory will live on.
BB the engraving is a great idea. HM your right the gun will stay in the family and be passed on down.

Great stuff, Thanks
---
If your to busy to go hunting, your just to busy.
Sorry to hear about a family member passing, but you must have rated high to receive something like this. Browning Hi-Power, 9mm. Great pistol. I thought it cool that the Browning was made in Belgium. And who'd have thunk that the Springfield XD is made in Croatia? (It is. Got one!)

I have 2 rifles and a 12-gauge (all Remington's) along with an M1 Carbine that have been handed down from my grandfather. (Age of the 4 of them combined is almost 300 yrs) All of these, and a few more that I've purchased, will be passed on to my children later on. I just hope that the kids and grandkids will appreciate and cherish these family heirlooms when I kick the bucket and head for those Pearly Gates.
Awesome. Families may move apart but they are always connected. Im glad he thought of you and gave you that to remind you of him.