got a target
---
Im going to try and concentrate on this 10 pt during the christmas slug hunt , I hope he shows up for one of us
The small buck with the curly looking horns looks neat to me in a few years he might be a good odd buck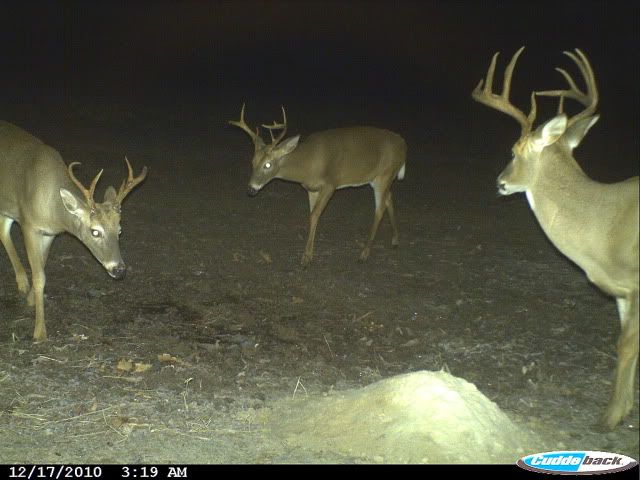 [IMG]http://i732.photobucket.com/albums/ww327/DELCASE/target4.jpg
Moderator
Join Date: Nov 2007
Location: Oregon, Ohio
Posts: 8,383
nice buck, hope he shows up for you!
Join Date: Jan 2007
Location: Vermont
Posts: 5,701
an awesome buck, I hope he shows up for you too...
---
Democracy is two wolves and a lamb voting on what to have for lunch.
Liberty is a well-armed lamb contesting the outcome of the vote.
-Benjamin Franklin

That is a shooter! I don't like the time he's showing up for you though...
---
James 1:2-8
delbert.... btw how do you like your cuddeback? I'm guessing you have the capture w/flash? Thinking about buying either a cuddeback or primos 35 or 60 with the money i make off selling two Wildgame Innovation IR4's when I get them back from the manufacturer!
---
James 1:2-8
I like the cuddeback its real fast
The next new camera i buy is going to be a moultrie game spy D-55 ir
One of my friends has one it takes good pics and the AA batteries last for 3 to 4 months