E mail I received
---
This is a picture I received via Email. I have no connections to this guy nor do I know who he is. One of those emails that go through 311,000 people before it reaches you.
--------------------------------------------------------------------
"This is freaking scary. As you know I was alone when I downed this elk in ND. I was using my cameraís timer attached to my shooting stick to give me enough time to get into the picture. I knew there were a lot of cats in the area but had no idea they would come in this close to people. He had to be within 10 feet of me and I didnít even know it. I about crapped my pants when I looked at the pictures the next morning and saw he was there."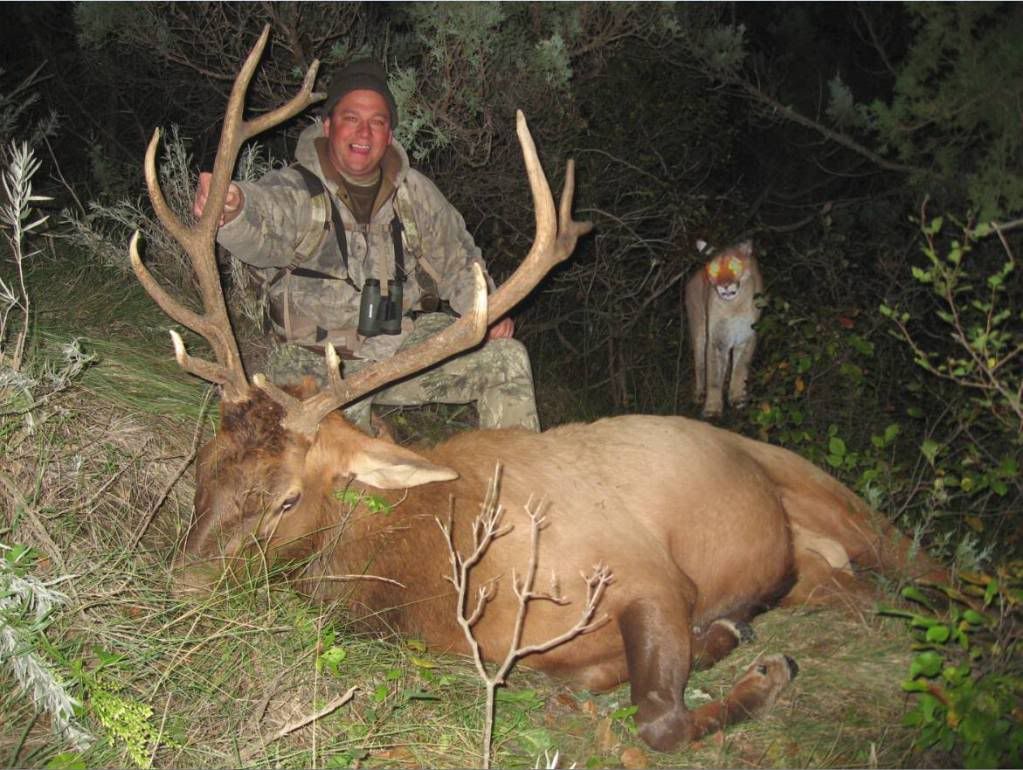 Join Date: Jan 2007
Location: Vermont
Posts: 5,701
WOW !!! You hear about stories like this but until you see it with your own eyes it doesnt really weigh too heavy....
I dont hear that many stories about those big cats but I do hear a lot about wolves, both are predators that shoudn't be ignored if you're hunting in the areas they range in...
---
Democracy is two wolves and a lamb voting on what to have for lunch.
Liberty is a well-armed lamb contesting the outcome of the vote.
-Benjamin Franklin

Moderator
Join Date: Nov 2007
Location: Oregon, Ohio
Posts: 8,380
pretty creepy, but nice elk!
What's that old saying??? One picture is worth a thousand words???

I would definitely frame this picture - more for catching that big cat that close than for the elk. BTW - it IS a nice elk - wish I had the time/$$/etc. to get one myself.
well at least I wouldn't have much to worry about the cat would look at me & not waste his time cat probably out weighs my x2
nah I would most likely have to burn my hunting gear & buy new ones would never get the smell out
Moderator
Join Date: Nov 2007
Location: Oregon, Ohio
Posts: 8,380
maybe that's a trained cat, helps guide the elk to the hunter.
Or maybe just likes to get his/her picture taken at kill sites you know the type, ambulance chasers.
talk about going from a definate HIGH point in your life to a possible LOW point in a hurry! hahahaha Sorry but I laughed when reading the caption to that pic. That camera might've gotten some distrubing pics on it if that cat decided to act!
---
James 1:2-8
hey timber i have seen this via email allso!! i have a hard time believing that that cat would be that close?but thats me?i have an email of a monster buck that i'm going to share to see if anybody has gotten it?
---
GRAB LIFE BY THE HORNS
heres the monster buck??real or fake?
---
don't know where or who shot this??anybody get this email?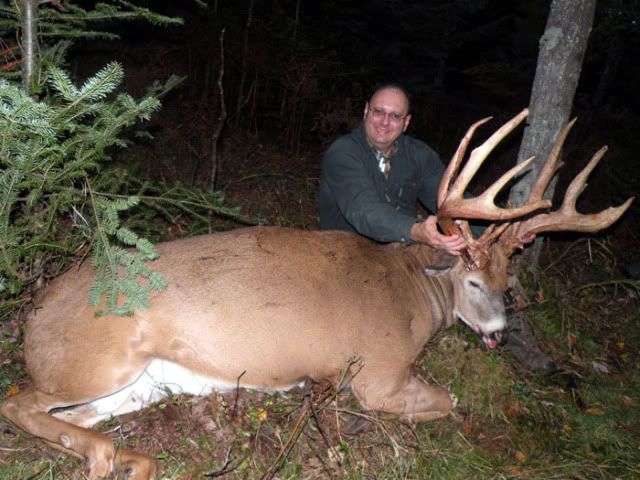 ---
GRAB LIFE BY THE HORNS
Moderator
Join Date: Nov 2007
Location: Oregon, Ohio
Posts: 8,380
I saw this a while back, looks impossible. Would have been in the news more if it was real? Looks like 400 lb range.