hey guys
---
hey yall, my laptop got a virus a couple months ago and totally crashed on me, ive lost all my pictures :( I'm hoping when i take it to the computer guys in town they can recover them somehow, I've got my fingers crossed. but anyways im on my sisters laptop now and have a few pictures i was able to get
-- my buck i got in South Texas last October qualified for the Texas Big Game Awards! it was awesome, it was in San Antonio early August and Mr. Larry Weishuhn (sp?) was a speaker there and also helped had out awards, he was really nice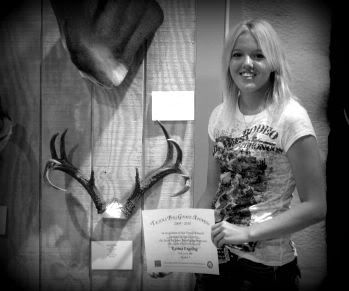 today is actually my birthday too! lol turned 17 :) anyways i got my mount for my birthday! i think it turned out great!!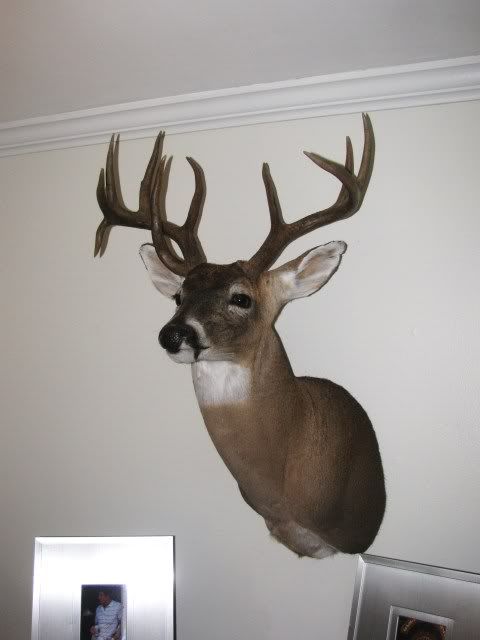 well hopefully next time i can get on ill have all my pictures back
---
Tell me and I forget. Show me and I remember. Involve me and I understand.
Moderator
Join Date: Nov 2007
Location: Oregon, Ohio
Posts: 8,380
ETD, Happy Birthday, oh to remember back to 17! Very nice buck and congrats on your award. and pretty awsome to have Larry as the presenter!
---
Last edited by Hunting Man; 08-30-2010 at

10:39 AM

.
Yeah have a Happy Birthday!!!!! I do hope that you are able to get all your pics from the computer because they were all great pics. Congrats to you for qualifying in the Big Game awards. That's awesome!!!!!!!!!
My youngest daughter turns 17 this fall and, for the first time, has expressed an interest in hunting. I'll be taking her to the range next weekend to see how she'll do with a rifle, since she's never had one in her hands before. Maybe you could give some pointers I can pass along to her.

Sure hope you get all your pictures back. I know what it's like to lose a lot of photos.
Happy birthday ETD
Am i seeing double on the last pic ?
hbd. sounds like you had a pretty good time
Join Date: Jan 2007
Location: Vermont
Posts: 5,701
Congratulations ETD!!! Hopefully they will be able to recover your pictures for you.
Happy Birthday and Best Wishes Always.
---
Democracy is two wolves and a lamb voting on what to have for lunch.
Liberty is a well-armed lamb contesting the outcome of the vote.
-Benjamin Franklin

Happy B-day, Great looking buck.
---
If your to busy to go hunting, your just to busy.
I'm envious that you got to meet Larry Weishuhn! One of the greatest hunters of all time. Love to watch him hunt deer w/that scoped handgun! Best laugh I've had in a long time is when he did a hunting show and missed a deer about 3 times and just the frustration on his face and the utter disbelief was hilarious (I was laughing with him!). The problem ended up being a loose screw on his scope!
happy b-day, my kids are a long way off from 17 but I'm hoping they enjoy hunting as much as daddy.