new buck in town
---
new cam and stand location after the bear.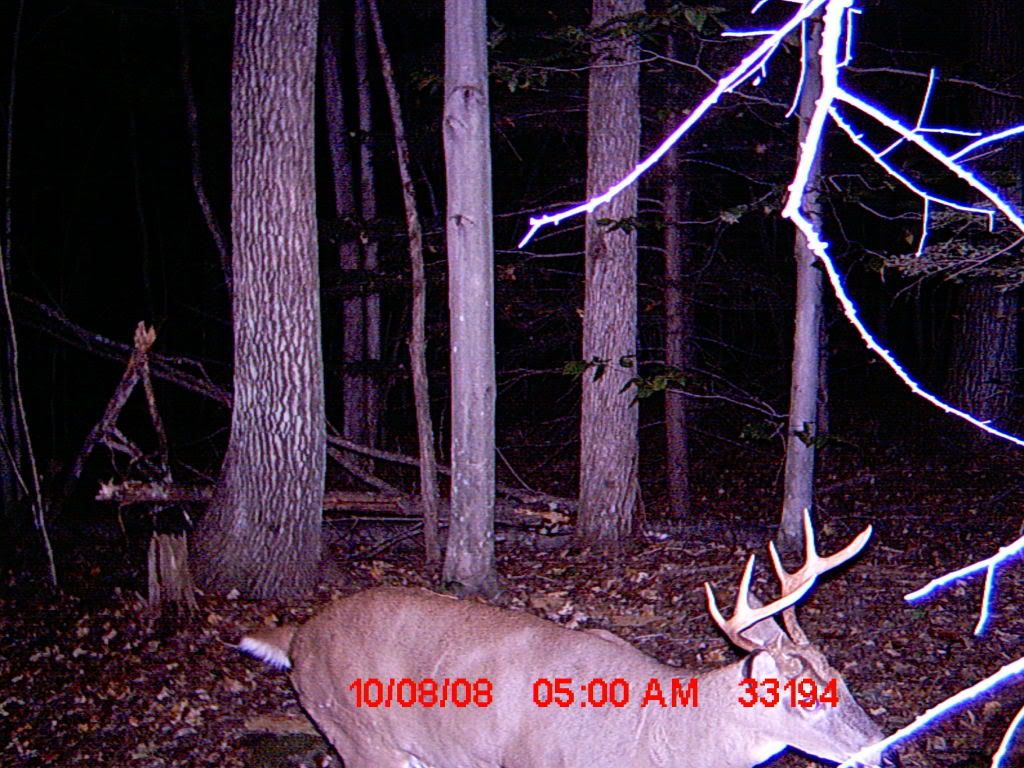 might be hard to pass being only 2 1/2
Looks like you got some good genes in those woods. Are you worried if you let it walk that someone else will take it?
most definitely. open land and others hunt it. mostly firearm. but hey if someone gets him all i can say is good for them. its not a bad deer at all, but imagine what he might be in 2 years.
---
Last edited by ronn; 10-11-2008 at

09:40 PM

.
That stinks.. Thats the way my hunting is. Ive got small tracts that I can hunt and or land thats good size but others also hunt it or we have folks try to sneak in on it. It would be hard for me to pass it up. During bow season I would not even hesitate.
we will see how i feel if he makes it out in front of me. I moved this cam and stand to a busier trail coming from the thick stuff.
I know what you guys mean the land I hunt is public not many hunt it but now it is for sale roughly 325 acres awsome land mix of everything large swamp, small clearcuts, pines just wish I won the lottery cause I would buy it up about $4000 an acre but have to buy the whole thing 1.1 Mil
well good luck with that. i'd be surprised if it sells any time soon. maybe the new owner won't post it and you can keep hunting it.
Holy crap...$4000/acre!! There must be gold nugget acorns and silver plated grass for that price.
---
John Eitzen
Nice buck but I would probably let him go if it was around where I hunt, on public land might be different I don't know.

Flexi $4,000 is a starting point for mountain land around here now days. It gets up to $10,000 an acre real quick if it is good land.
Are you serious? How the hell does someone justify buying land for that amount of money? It seems like land is going the way of houses where people get in over their heads then the market falls out. Speculative buying screws up everything, and makes it harder for the average folks to purchase things at reasonable prices (whatever that might be). I've watched land values going up around here in the last few years, but it is nothing like what you guys are talking about. $1500/acre is a pretty high price around here. I'd say that most land goes for around $1000/acre.
---
John Eitzen