future rug
---
not the best pics i used my cell phone.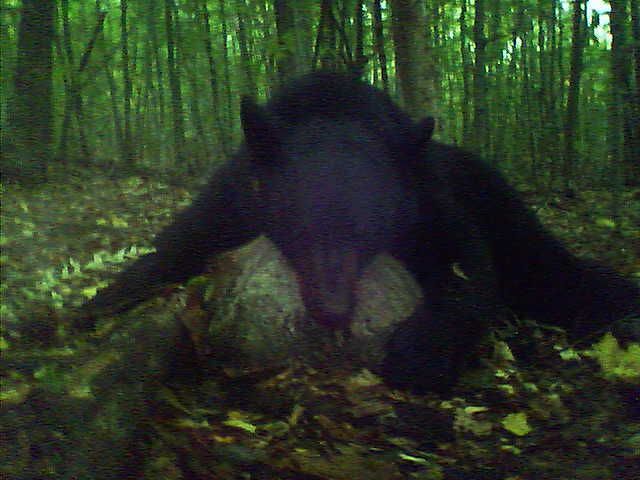 around 200 lbs and i got my arrow back.
BEAUTIFUL animal ronn. That will be a NICE rug! Love that you got it with a Bow!
Join Date: Jan 2007
Location: Vermont
Posts: 5,701
Congratulations ronn, When you posted the trail cam bear pic,
I kinda sensed I'd be seeing this post. Very nice Bowhunt!! Awesome Trophy!!
---
Democracy is two wolves and a lamb voting on what to have for lunch.
Liberty is a well-armed lamb contesting the outcome of the vote.
-Benjamin Franklin

He 'ought to make a very nice rug! Congrats
---
Tell me and I forget. Show me and I remember. Involve me and I understand.
bruce totally different area and bear. didn't even have a clue this guy was in there. saw one in there 15 years ago but not since.
Moderator
Join Date: Nov 2007
Location: Oregon, Ohio
Posts: 8,383
Congrats ronn! Nice bear.
Scrub Buck
Join Date: Sep 2008
Location: Tazewell, Va
Posts: 11
---
Congratulations! That is a nice bear in anyones book. Bear archery season is still a week out for us in VA. I cant wait. I took my first bear with a bow last year. It dressed out at 145#. It made a nice rug. You will be very pleased. Are you going to eat it?
richie, i'm going to keep some share the rest. its not a dumpster bear so it should be good meat. i have had some before and it was pretty good but i'm not really a bear hunter. i get a licence every year but don't really go. our season starts sep one and runs into rifle season for deer in nov, so its a bear of opportunity. where is tazewell in relationship to roanoke? i was there last weekend and make the run a couple times a year. va is probably my favorite state. the shenandoah valley is beautiful.
That is awesome ronn, congrats to you. Around here a 200 pound bear is a monster bear. Going for hot/spicy sausage????