View Poll Results

: How old is this buck?

1.5 years old
0
0%
2.5 years old
0
0%
3.5 years old
4
26.67%
4.5 years old
9
60.00%
5.5 years old
2
13.33%
6.5 years old
0
0%
Greater than 7.5 years old
0
0%
Voters: 15. You may not vote on this poll
B&C 140 Class
Join Date: Jan 2008
Location: Maryland
Posts: 790
Look at the hind quarters. He is as wide in the butt as the front. Race horse look is not on that buck. Wait until rut he is going to be impressive.
Moderator
Join Date: Nov 2007
Location: Oregon, Ohio
Posts: 8,383
ETD, that's one nice buck you have there. I'll join the majority and say he's 4.5. I think another year would give him a bit more of a roman nose and a little more fill out in the belly. That would make a great mount! The 12 pt in PA has not been captured on cam yet. I hope he is still in our area first week of Nov.
Join Date: Jan 2007
Location: Vermont
Posts: 5,701
Quote:
Originally Posted by
East Texas Droptine
View Post
I don't know Bruce....I want to say 4.5 yrs old....but his neck and belly are really messing me up...Based on last year's pics he looked 3.5 and the year before that he looked 2.5....well here are the pics from the past years...
Last Year --> Year Before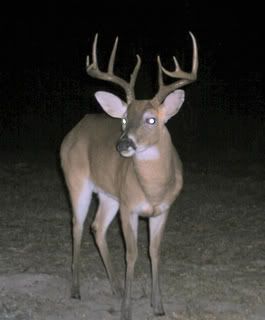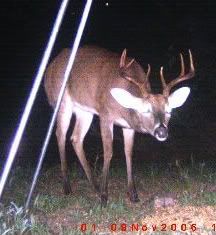 In the 2006 Pic, I gotta say he looks more like a 3.5 yo buck which would make him 4.5 yars old last year and 5.5 this year.

Also, a 2.5 year old buck will most likey have a small to medium set of antlers where at 3.5 will have med to large antlers. I would say in the 2006 pic he has a med - large set, I don't believe they are small - med sized.
So now (especially) after seeing your "thru the years pics" I'm convinced more now than before this deer is clearly 5-1/2 years old.
---
Democracy is two wolves and a lamb voting on what to have for lunch.
Liberty is a well-armed lamb contesting the outcome of the vote.
-Benjamin Franklin

B&C 140 Class
Join Date: Jan 2008
Location: Maryland
Posts: 790
It could be a coin toss. I did think all pics were of this year. I don't know Texas deer but for Maryland here he would be 4 1/2. In any case ETD he would make a proud addition to your wall. Send us your best pose with him in your hand.