Velvet Shedding Pic
---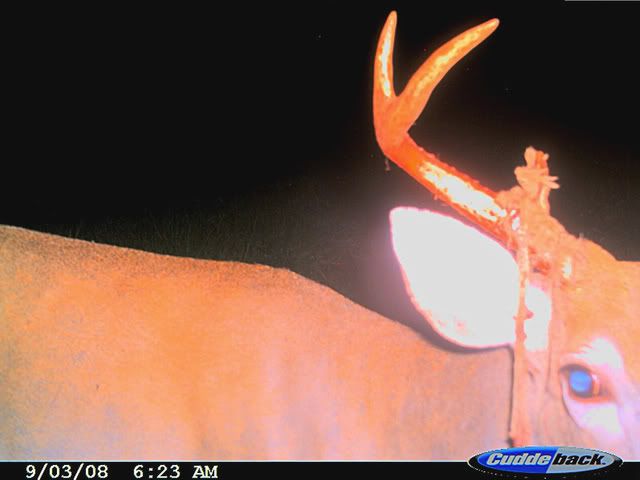 Looks to me like he also has some velvet hanging off the right antler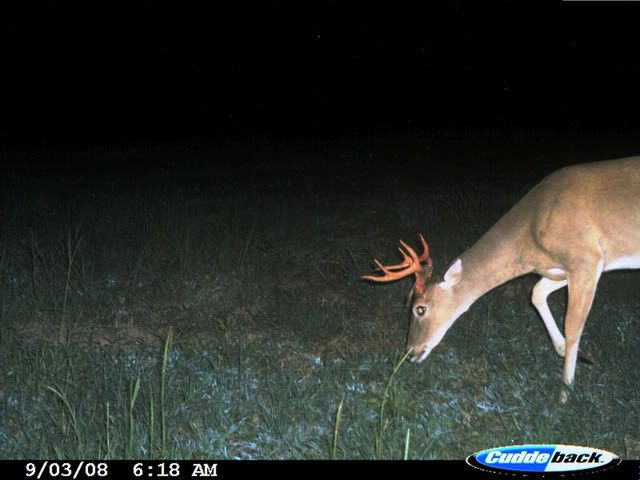 ---
Tell me and I forget. Show me and I remember. Involve me and I understand.
---
Last edited by East Texas Droptine; 09-06-2008 at

08:48 AM

.
neat pic. you don't see that every day.
Sure is a good sign to see the velvet falling, I think were all ready and waiting for season.
Oh wow!! That is the pic that I am after...kinda. I've always wanted to capture a buck shedding the velvet.
---
John Eitzen
Cool pics!!!!
---
GRAB LIFE BY THE HORNS
its getting close now,thats the second set of pics like that ive seen this week
---
Now therefore take, I pray thee, thy weapons, thy quiver and thy bow, and go out to the field, and take me some venison.
Genesis 27:3 "The thinking deer hunter should mature through three phases during his hunting life. First phase, "I need to kill a deer." Second phase, I want to harvest a nice deer. And last phase, we must manage this resource so our children and their children can experience the grand tradition of good deer hunting." - Jim Slinsky
nice pics, i wonder if deer in texas shed earlier than the deer up north, also any suggestions on how to post pics! go some with more on the way and would like to share. thanks!
are deer still had velvet last week end..its getting close.