NH turkey
---
this morning 20 lbs, 3/4" spurs, 9 " beard.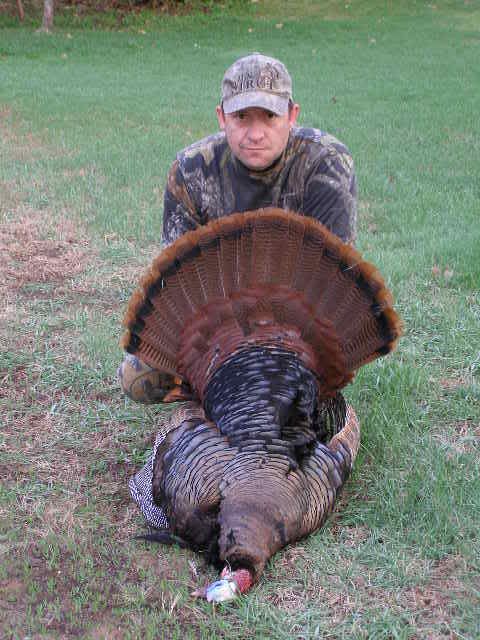 Congrats that's a good looking bird.
congrats.. at least one of us is gettin some bird hunting in!!
sadly I'm done. one bird in the spring in NH
NICE BIRD only i per huh?thats stinks come down to NY you can take 2.
---
Now therefore take, I pray thee, thy weapons, thy quiver and thy bow, and go out to the field, and take me some venison.
Genesis 27:3 "The thinking deer hunter should mature through three phases during his hunting life. First phase, "I need to kill a deer." Second phase, I want to harvest a nice deer. And last phase, we must manage this resource so our children and their children can experience the grand tradition of good deer hunting." - Jim Slinsky
Join Date: Jan 2007
Location: Vermont
Posts: 5,701
Nice Gobbler Ronn, I've been wanting to get out myself but I've been battling the same cold/flu like crap that's going around...

I tried it once before and I can tell ya 1st hand, Gobblers don't come to a coughing hunter...
---
Democracy is two wolves and a lamb voting on what to have for lunch.
Liberty is a well-armed lamb contesting the outcome of the vote.
-Benjamin Franklin

yelp,yelp,yelp,ACCK ACKK COUGH COUGH ,BLAHT
---
Now therefore take, I pray thee, thy weapons, thy quiver and thy bow, and go out to the field, and take me some venison.
Genesis 27:3 "The thinking deer hunter should mature through three phases during his hunting life. First phase, "I need to kill a deer." Second phase, I want to harvest a nice deer. And last phase, we must manage this resource so our children and their children can experience the grand tradition of good deer hunting." - Jim Slinsky
Join Date: Jan 2007
Location: Vermont
Posts: 5,701
Joel I see you've tried the cough call a time or two. LOL
---
Democracy is two wolves and a lamb voting on what to have for lunch.
Liberty is a well-armed lamb contesting the outcome of the vote.
-Benjamin Franklin

Moderator
Join Date: Nov 2007
Location: Oregon, Ohio
Posts: 8,383
That's a nice bird. Congrats