Dwarfism In Der Maybe??
---
---
GRAB LIFE BY THE HORNS
I seen this pic before. odd!? did you figure out what was wrong with the swamp donkey pic?
Swamp Donkey Is Three Wheel Drive Lol I Wonder What Happened To It?coyotes,wolves Maybe?must Be Hard To Get Around.cool Pic Though.my Picture I Sent To Wmi And Maybe To You(RONN) Not Sure.but I Wanted To See If Anybody Has Seen This Before?
---
GRAB LIFE BY THE HORNS
The one I was after. He didn't get shot so if he survived the winter he'll be around this deer season.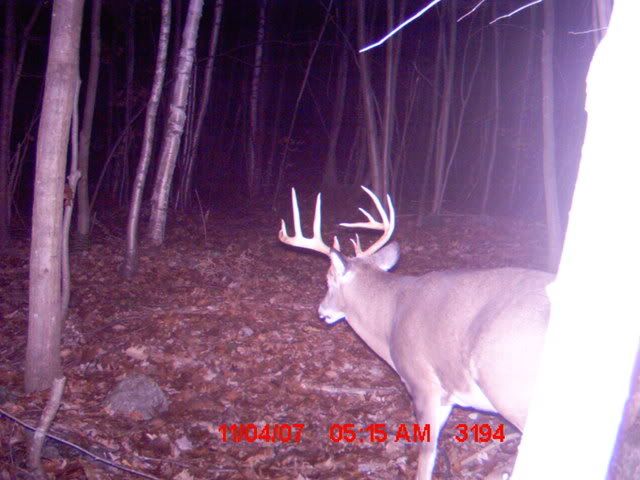 WOW HE'S A DANDY!!! ITS NICE TO SHARE ALL THE PICTURES AND MEMORIES WE HAVE.HOPFULLY WE CAN KEEP THIS GOING.
---
GRAB LIFE BY THE HORNS
wish i had a camera.yall can keep it up by continuing to post
---
Now therefore take, I pray thee, thy weapons, thy quiver and thy bow, and go out to the field, and take me some venison.
Genesis 27:3 "The thinking deer hunter should mature through three phases during his hunting life. First phase, "I need to kill a deer." Second phase, I want to harvest a nice deer. And last phase, we must manage this resource so our children and their children can experience the grand tradition of good deer hunting." - Jim Slinsky
---
Now therefore take, I pray thee, thy weapons, thy quiver and thy bow, and go out to the field, and take me some venison.
Genesis 27:3 "The thinking deer hunter should mature through three phases during his hunting life. First phase, "I need to kill a deer." Second phase, I want to harvest a nice deer. And last phase, we must manage this resource so our children and their children can experience the grand tradition of good deer hunting." - Jim Slinsky
---
Now therefore take, I pray thee, thy weapons, thy quiver and thy bow, and go out to the field, and take me some venison.
Genesis 27:3 "The thinking deer hunter should mature through three phases during his hunting life. First phase, "I need to kill a deer." Second phase, I want to harvest a nice deer. And last phase, we must manage this resource so our children and their children can experience the grand tradition of good deer hunting." - Jim Slinsky
---
Now therefore take, I pray thee, thy weapons, thy quiver and thy bow, and go out to the field, and take me some venison.
Genesis 27:3 "The thinking deer hunter should mature through three phases during his hunting life. First phase, "I need to kill a deer." Second phase, I want to harvest a nice deer. And last phase, we must manage this resource so our children and their children can experience the grand tradition of good deer hunting." - Jim Slinsky
kittiy kitty kitty