B&C 100 Class
Join Date: Jul 2007
Posts: 59
LEUPOLD KATMAI 6X32
BINOCULARS
I must be off my rocker. I have binoculars coming out of my ears and I just went out and ordered another.
This time the culprit that captured my heart is the Leupold Wind River Katmai binoculars, a roof prism model that is quite compact and light but offers superior viewing compared to full sized premium binoculars.
I had seen them before in catalogues such as Cabela's and Red Head, but I never got interested because I thought they were only available in 8x32.
Having recently bought the Leupold Yosemite 6x30 binoculars, I became interested in seeing what others models they offered and discovered that the Katmai were also available in 6x32.
The reason that I am particular about the six power binoculars is that they offer a perfect magnification for the kind of close woods hunting I do.
When available in the 32 mm sized objectives, I am getting a 5.33 mm of exit pupil, giving good quality optics; the right pupil opening for the low light condition that I often glass under. I never saw any reason to own them in 8x32, as I will be getting only a 4 mm of eye pupil: no doubt good for daylight, but no good for the use I put binoculars through.
If I am going to use an eight power, then it will have to have 42 mm objectives to give me 5.25 mm of eye pupil. I already have two great pairs of glasses in that size (the Pentax and the Nikon) and I use them often, but the new Leupold Katmai is going to fulfill the same task, using less bulk and weight, which is important for me in certain instances.
Here is a picture of them together so you can appreciate the size difference. From left to right: the Leupold Yosemite 6x30 Porro prisms, the Leuopold Katmai 6x32, the Nikon Monarch 8x42, and the Pentax DCF 8x42.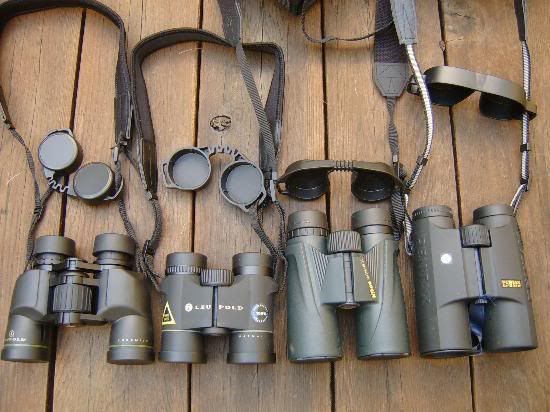 I am fifty miles from New York City, so it is not possible for me to go to check binoculars every time I have a whim for them (and it happens often), so I ordered the Katmai over the mail knowing that you will not always get something over the mail that will fulfill your expectations. No such problem occurred with the Katmai binoculars, though: they are great and exactly what I expected them to be for a glass of this price and more.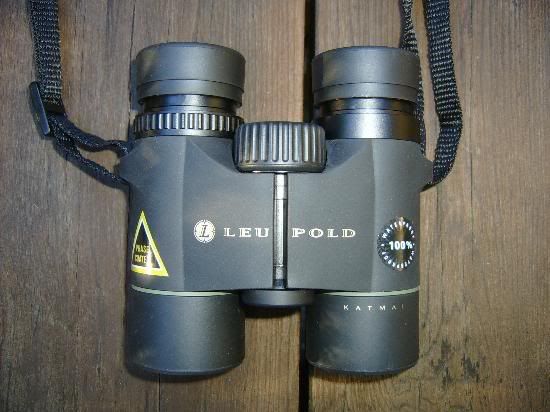 I performed the usual checks and was amply satisfied with the optical quality and mechanical precision of the glasses. The ergonomics are also great for a glass of this size, and I was well pleased with my purchase.
One aspect of this purchase is worth mentioning: when looking at the Katmai 8x32 that Cabela's and Red Head have in their catalogues, the price for them was hovering around $400 to $420. I bought the Katmai 6x32 over the web for $289 shipped.
Now the question is how they compare optically with the lower priced ($98) Porro prism Leupold Yosemite binoculars, and if the $200 difference is noticeable in the optical quality.
If that difference is there, I can't notice it! Both glasses performed well in my low light test and both are sharp and with enough resolution to satisfy the most rabid birdie.
We all know that roof prisms are more expensive and difficult to make well, so part of the money goes toward that end, perhaps of influence in the price is the fact that the Katmai are made in Japan and the Yosemite in China; we know that our money buys more Yuan than Yen.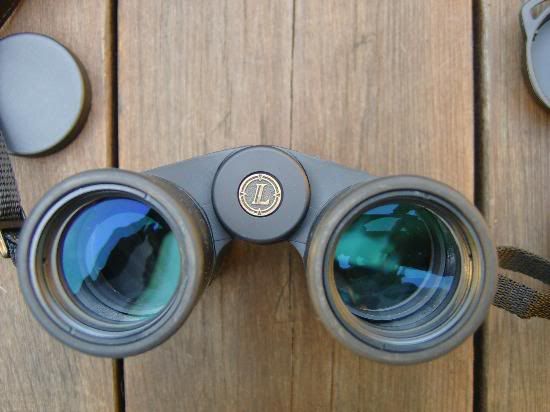 So what is going to happen to the Yosemite 6x32 now that my new love is the Katmai? No problem on that end, since my son already declared ownership of the Yosemite, as he recently took them on a trip to Florida's Everglades, using them in the Aninha trail and in the Flamingo point.
He came back saying, "Dad, you will never these back; they are great glasses!" Now if I can just hide the Katmai from him until he goes to college in September, I will be fine.
For those that don't understand the obsession that possesses me, I am here to tell you that there is nothing better than to look through quality glasses. I am just in a rush to finish typing this to go and sit in my patio and look for the red-tailed hawk that has been visiting us here lately.
Cheers,
Watchmaker
---
builder of the Borealis flashlight
I own some leopolds that are 4x10 i think these are very nice I dont know what the model name is but they are camo have the twisting eye caps and these were my first real pair of binoculars and I love em
---
Proud to be a HUNTER

Thanks for all the info and tips. You are now THE optics guy on this site!
Scrub Buck
Join Date: Jun 2010
Posts: 3
B&C 140 Class
Join Date: Oct 2009
Location: Williamsport,Pa
Posts: 608
Hey guys, I'm canceling my subscription to Field and Stream and Outdoor life.
We have the watchmaker for free! lol
Really really good posts watchmaker and thank you for such detailed information.
daddus1