B&C 120 Class
Join Date: Nov 2011
Location: Southeast
Posts: 295
New Guy
---
Hello- I am new on here, first post. I am an old guy (67 hard years, sometimes violent years) with over a half century of deer hunting across this country, Canada and Mexico. I also had several years guiding deer, elk and bear hunters.

I am semi-retired, just work when I feel like it and spend the rest of the time, hunting, fishing, reading and playing with the grandkids.

Until serious injuries and a bad illness hit, four years ago, I mostly bowhunted. Now I shoot a crossbow during archery season and mzl and rifle when open. I have stopped being a trophy hunter. Have killed my share of "bone" and now hunt completely for the enjoyment of it and the meat for my family and others. This year, I have four with the crossbow, one with a mzl and two with rifle-one small and one mdeium buck. The rest does. I am about done.

Now. You know all about me. Questions welcome.

Scribe
B&C 120 Class
Join Date: Nov 2011
Location: Southeast
Posts: 295
Just so you know what I look like. This was a few years ago and I am a tad more grey now.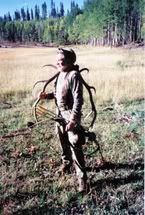 B&C 120 Class
Join Date: Nov 2011
Location: Southeast
Posts: 295
Thanks. I find I have time on my hands this time of year, too early to start fishing and still a month of deer season left but the freezers are full. So I thend to browse some.

What part of KY is Breck Co?
Hey young man and welcome to the DHC.
Welcome to DHC from NH scribe
---
2017 Bow String Depot Prostaff http://www.bowstringdepot.com/
Remember when posting what may seem innocent to you may not to others,
text shows NO emotions so please,,, don't take it personal & automatically go on the defense.
Take it w/ a grain of salt, take it as a joke or just let it go.
Join Date: Jan 2007
Location: Vermont
Posts: 5,701
Greetings from Vermont, Welcome to the Deer Hunters Club!
---
Democracy is two wolves and a lamb voting on what to have for lunch.
Liberty is a well-armed lamb contesting the outcome of the vote.
-Benjamin Franklin

B&C 120 Class
Join Date: Nov 2011
Location: Southeast
Posts: 295
Some years ago I did seminars at a hunting show in VT. I can't remember the town but it was held in a hockey complex. I really enjoyed it and the young lady I hired to help run my booth was a real sweetie. Wish I was 40 years younger and coule remember her name. :) Beautifull country up there.
Welcome from MISSOURI.. glad to have you
---
James 1:2-8