B&C 100 Class
Join Date: Mar 2010
Location: Franklin TN
Posts: 56
Yeah it's melanism, there have been a few melanistic deer (I read some place in Texas has a lot of them). The only melanistic animals I've seen in the wild in person are the longnose gar that live in our river...every once in a while there's a black one swimming around. Haven't caught one yet...the line always goes astray after multiple tries and then the fish is gone
As for albinos I've seen 2 whitetails in person this year.
I cant belive it was that easy to move the pics once some one told me how to do it..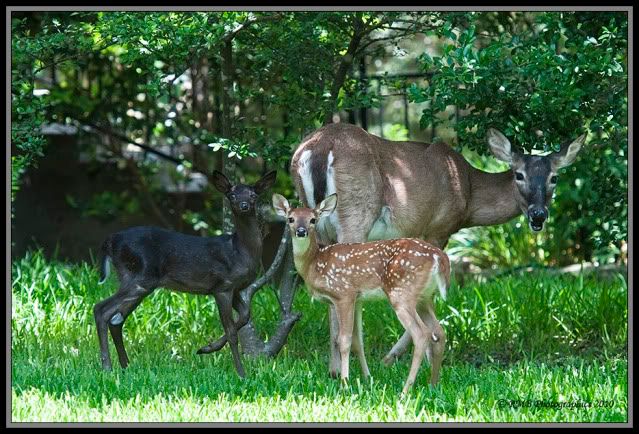 It took so long to get these up here's a bump
Join Date: Jan 2007
Location: Vermont
Posts: 5,701
Those are awesome pics delbert, thank you for sharing those...
---
Democracy is two wolves and a lamb voting on what to have for lunch.
Liberty is a well-armed lamb contesting the outcome of the vote.
-Benjamin Franklin

Moderator
Join Date: Nov 2007
Location: Oregon, Ohio
Posts: 8,380
Really nice pictures. The black color is definitely something I've never seen. Almost weird looking in the face, eyes. Thanks for posting!
B&C 100 Class
Join Date: Mar 2010
Location: Franklin TN
Posts: 56
crazy looking deer! do you know if it's a male/female yet? would be cool to see it grow some antlers next year. I dont know if melanistic deer exist in Tennessee, but if I saw one I would try and shoot it since it's not illegal to kill black deer (only white ones) in TN.
Great pics, thanks for sharing. I've always loved unusual colors and markings on all animals. I don't know if I'd shoot it or not. We have some light gray turkeys here and our regulations say " wild turkey: any dark turkey" So we can't shoot the gray ones, but they are cool to see. Will try to get pics this year.
B&C 100 Class
Join Date: Oct 2010
Posts: 38
i think i would be so in shock that i actually saw one that i would forget to shoot it.... then again....