gettin ready
---
gettin ready for tomorrow and hunting clothes are in the dryer. snack is in the pack. I just got a couple more things to take care of for an all day sit tomorrow and sunday. I got the camera stuff to change cards. can't wait to see if there is anything there after a week. humping in another stand to get even farther in, about a mile and a half, for a switch on sunday and use for bow, later on. good hunting all
---
Last edited by ronn; 11-20-2009 at

04:46 PM

.
Moderator
Join Date: Nov 2007
Location: Oregon, Ohio
Posts: 8,383
Good luck ronn, happy hunting! Me I'm working all weekend.
that stinks. when are you headed to pa again?
B&C 100 Class
Join Date: Oct 2009
Location: Milwaukee, WI
Posts: 86
My first solo hunt. I've been to my first educational hunt a few weeks ago, now it's opening season in WI and my first hunt... It's so much more responsibility to be on my own. What if ... What if not... Good luck to everyone too.
Join Date: Jan 2007
Location: Vermont
Posts: 5,701
Good luck to you guys
---
Democracy is two wolves and a lamb voting on what to have for lunch.
Liberty is a well-armed lamb contesting the outcome of the vote.
-Benjamin Franklin

Good luck, Ron. Things are starting to wind down here in Montana for me. One week left. I may do a little more elk hunting next weekend, and that'll be it. Hunted on my favorite ranch for the last time today. There were a bazillion deer tracks, but no elk tracks. Looks like it might be just that one 8 point for me for the year. Good luck to you this weekend.
B&C 100 Class
Join Date: Nov 2009
Posts: 30
Good luck with the hunt. I went out tonight, and had a couple of does under the stand, a little 6 and a nice 8 (3 1/2 yrs.) I drew on one of the does, and then didn't get the shot. I could have shot either buck, but I have already filled my buck tag... my kids both have tags for the rifle season and I can''t wait, maybe they will get a shot at him! It will be the first hunt for both of them. I plan on trying to video their hunts.... I am already getting excited! I plan on filling my tag before their hunts in December.... I will be out in the morning. Let us know how you do!
tough day today. the woods were dead all day. seems even the tweety brids had left the country. back at it in the am. i did get to look at this all day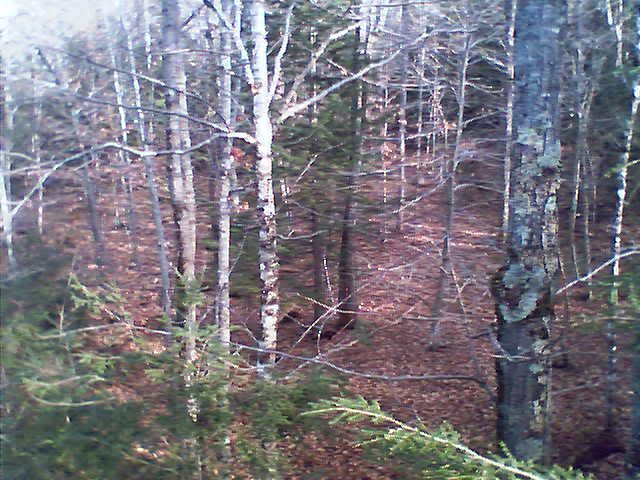 ---
Last edited by ronn; 11-21-2009 at

05:50 PM

.
ok this weekend i got 21 hrs on stand and didn't see a single deer. i got trails, tracks, scrapes, rubs, cover and acorns what more could they want. ain't nh deer hunting great and you nh guys know what i mean. time in the woods is the only way to get it done. i'll be out turkey day for part of the day, anyway.

going to the maps to try and figure it out. big ole woods. oh say 6 miles west to east and 12 south to north. thats just the roads around the woods. no roads in the area. so its allot to work with.
---
Last edited by ronn; 11-22-2009 at

06:42 PM

.
It was a tough weekend on our 800 acres. 12 people hunting. 1 doe and one freaking massive monster 10 point with a 19 inch spread (That is an amaziing AR Buck). I shot the doe.

Not sure what is going on this weeknd but it wasn't good.