inturptating scrapes
---
a buck in the area im hunting keeps makeing scrapes on a daylie bacis but never refreshans any of them. the scraps are all in a 150sq yard area. what dose this tell me about the buck and what he is doing?
B&C 100 Class
Join Date: Oct 2009
Location: Milwaukee, WI
Posts: 86
As you know from other posts, I'm not an expert. However, I think I might have a suggestion based on what I read.

1) It tells you that the buck (or maybe several of them) are in the area and in the rut.
2) It tells you that the buck believes there're does around too (does' bedding area might be downwind).
3) It might tell you size of the buck (he might imprint his antlers), but I am not sure if you can read them. I sure cannot.


What he's doing.

1) The book I am reading now suggest that making a scape is pleasant to a buck.
2) Since he don't revisit those scrapes, he's not serious about getting a hot doe scent there (it contradicts what I said before, but what I said before there's does in the area in general, but theese particular scrapes aren't his primary visit spots for them does).
3) So, he probably just marks his territory with those scrapes and gets himself a quick pleasure.
---
Last edited by BruceBruce1959; 11-11-2009 at

12:40 PM

. Reason: foul wording
B&C 140 Class
Join Date: Jan 2008
Location: Maryland
Posts: 790
Young bucks staging area. Are they smaller in size and shallow?
as far as size. i have read from books they can range from the size of a frisbee to the size of a hood of a car. if thats the case they are meduum size. about 14" wide by 30" long. as far as depth i have no knowlage of what constituses deep or shallow. to me they look worked hard. today i still hunted my area to get a good look around and found some new and nasty rubbs to. from what i have read i assumed it was a yong buck because of them not getting re worked but wanted to get opinions from you guys.
B&C 140 Class
Join Date: Jan 2008
Location: Maryland
Posts: 790
Your best clue is the 14" wide. Now think about the shoulder size of even a 2 1/2 year old. Bucks tend to kick out to the sides so in this case more than likely he is a young guy just feeling his oats.When you look at a scrape look for at least 3" of spread from the tips of the hoof. Does not sound like much but 3 to 4 inches can be a good buck. In your neck of the woods with the northern strain of whitetail 3" would be minimum. I personally look for 20" or wider with a lot of kick back debris.
no real kick out to the side. lot of kick back debree though. im actualy kinda hoping its a younger buck. they are easeyer to fool. id rather have pics of a 140lbs. 6 pointer haning from a tee in my yard thean a pic of a 190lbs. 10 pointer on my trail cam.
B&C 140 Class
Join Date: Jan 2008
Location: Maryland
Posts: 790
NH one day that will change, that's the day he just walks into your life. You will be ruined after that. LOL
B&C 100 Class
Join Date: Oct 2009
Location: Milwaukee, WI
Posts: 86
Do you see any deer tracks in or around the scrape?
---
If you can measure an hoove inprint, you can know the deer size. If it's 2" wide, then it's an yearling, if more than 2 1/2", it's a mature one.
Join Date: Jan 2007
Location: Vermont
Posts: 5,701
huntnh, here's a good chart of Deer track sizes.... the measures you see on the left are measured from tip to dewclaw.
This should help you determine a little more about the deer also.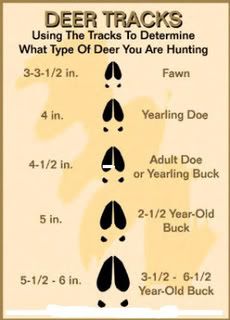 ---
Democracy is two wolves and a lamb voting on what to have for lunch.
Liberty is a well-armed lamb contesting the outcome of the vote.
-Benjamin Franklin