calling
---
this question is mainly for Ronn, and other NE hunters, but any one can feel free to give there input. what type of calling do you guys use? i generaly just use a doe bleat every 1/2 hour or so. i rarly ever hear grunting in the woods, and when i do i have never seen the buck who was doing it, so i dont know for sure it wasent another hunter grunting. and iv never heard two bucks fighting so i dont raddle. what would you guys be ding if you were me?
B&C 120 Class
Join Date: Oct 2008
Location: Rhode Island
Posts: 394
I am from RI and the deer herd here is pretty large there is no need to call. But I have heard bucks grunt and have seen them while they are grunting Pretty cool. However I do know a couple guys who swear by the bleat during the rut.
the bleat had worked for me in the past. but it was durring the peek of the rut, and the rut is just starting hear. plus NH dont have as strong of a deer hurd as down south. the winters up hear can be brutal on deer populations.
it all works as long as the right deer hears it at the right time. i've rattled 4 or 5 deer up here in nh over the years. probably not as high of a success rate as in other parts of the country but it worked. maybe i've had more run but i didn't know it. i turned the one around in my avatar with a snort-wheeze and a couple grunts.
thanks Ronn, i may give rattalin in the AM.
Here's a pic of a nice Montana buck I shot last year while calling. I used a grunt tube and a doe bleat. Blew the grunt a few times, followed by a bleat or two. Then repeated the whole thing a few minutes later. The buck showed up about five miunutes later. He was coming straight for me. I swear I had to shoot him in self defense. The more I use calls, the more enthusiastic I get about them. By the way, this was during
the peak of the rut here. I will be in the same place this year at the same time with my grunt tube, bleat and a couple of more surprises for the next buck that shows an interest. Will send new pics (I hope) if everything works.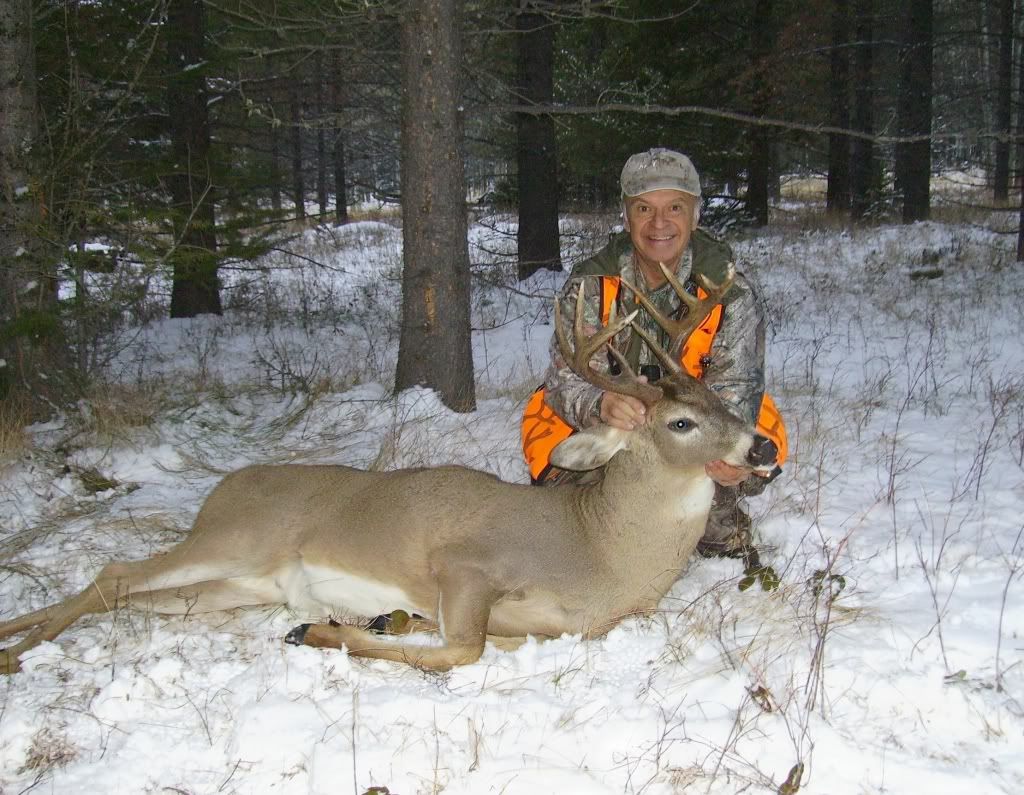 i never get tired of seeing that buck and that happy smile of the hunter.

Now is the time huntnh the bucks, well lets just say now we know why the head gear, but the does are still not ready. bucks are edgy and aggressive. give that rattle a try along with a couple grunts wait a bit and grunt and bleat. not too much do it wait 30 mins and go again. they may sneak in, like the one did me the other night, or just come right in with attitude. or they may run and hide ya never know.
i tryed rattlein al little yasterday am, and today am. it did not pull any in, but i dient hear any go running the other way ether. i tryed to make it more intence than two yearlings sparring but not a baddle royal between 2 ten pointers ether. i then folowed the rattleing with a few doe bleets a minit later. ronn also sugested in a nother topic i started that i try hunting with no calling due to more hunting preshure in my area than most. what do you guys think i should do on this eavnings hunt. other friends of mine in the local area have reported rutting activity if that helps with your sugestions.
B&C 140 Class
Join Date: Jan 2008
Location: Maryland
Posts: 790
Grunted 7 bucks in this afternoon but no shooters. The game is on fellow hunters!