I really don't care either way its just splitting hairs as i see it, orchards, plots, crops, or bait but then again I've never done the hunt that hm's up buddy does. I can see how one could loose the hunter part just sitting over bait piles or just sitting bean field edges only. I totally agree that the bulk of what is hunting is the process of hunting but baiting doesn't necessarily mean you must or mustn't forgo the art of the hunter. wmi mention IL. I half jokingly told the guide, when he said he was picking up his hunters, that we weren't hunters. we were his shooters and he started calling us his shooters. no "bait" involved there unless you consider bean and corn fields bait, which i do. hunting being such a personal thing you play the game as you see it not the way I see it or wmi or anyone else. I only will take a mature tom but if i'm calling for someone its their hunt and they can take the one that pleases them without apology to me. same thing with deer hunting. its your hunt. take what you want the way you want with no apologies to me or anyone else.
I plant food plots so i dont have to fill up the tube feeders...
I like to keep the deer in my woods happy, so i give them food to eat
A pile of corn is not going to guarantee a deer kill , much less a good buck,,unless you hunt it under your yard light at night
I put corn in 3 feeders last weekend that have a antler trap around them the deer will be free to leave after they deposit there horns
I might be a late season baiter
Wow. This is kinda a sensitive subject, and many people are very passionate one way or the other. I don't bait my deer because of health concerns. I have left notes on my neighbor's corn feeder that is within arms reach of the border fence telling him I don't appreciate his feeder placement. He starts feeding corn out of that feeder about a week before deer (gun) season, and brings a bunch of guys out there through the week and they shoot anything that comes in. I have to stay out of that place for that season because I'm afraid of getting shot with them shooting right into my place. I guess that's more of a stupidity problem than a baiting problem, but it still sucks. They bait in all the deer and then shoot at all of them...lazy hunters...I agree.
---
John Eitzen
Moderator
Join Date: Nov 2007
Location: Oregon, Ohio
Posts: 8,383
I wanted to raise the baiting issue because it is a sensitive subject. I think debating an issue helps to bring about knowledge and change. I hope that with all the input presented here both sides of the debate can gain something usefull from it. I strongly believe that this site created the forum in which these kinds of issues can be discussed and knowledge shared, for that I'm glad to be a part. HM
Found first shed today
---
I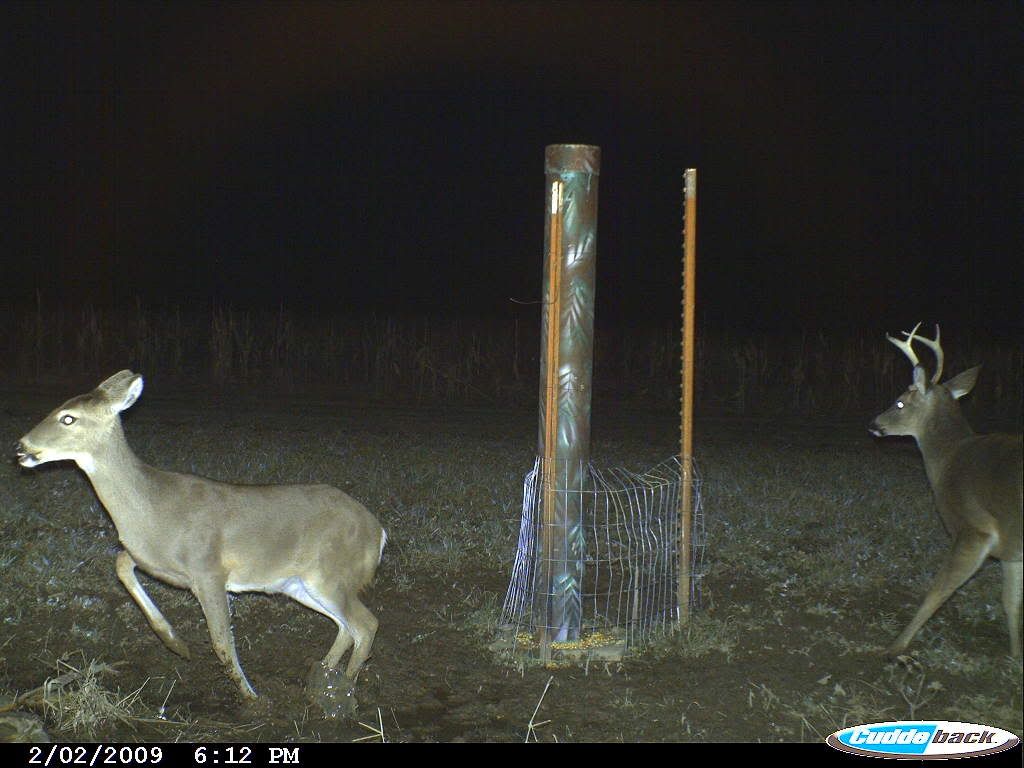 t is to small to post,,Hope the traps catch some
---
Did find a small shed today...This is the second week i have put out corn..
I am a shed baiter
Great pics. I see you really make if tough for the deer to feed, good idea. I bet it makes your bait pile last longer.
B&C 140 Class
Join Date: Jan 2008
Location: Maryland
Posts: 790
Why do you camo the tube? Just curious.