Scrub Buck
Join Date: Nov 2008
Posts: 15
My first hunting experince...(lots of pics) part 1
---
After camping out in 30 degree weather ( and that was the high's) for 5 days. I am glad to say that I am home where I can control my heat, but I will miss my campfire food.
My wife brought me an Remington 700 Left handed rifle this year so needless to say I was all egar to go hunting for my first time. I knew what to expect, due to my "tagging along" last year with Alisha, but the dang lows of 20's or in the teens gets to me at sunset. I was sitting there shivering, and hoping that my first buck ..Aka Bambi father ( Have you
SEEN
his huge rack?!) would pop out of no where, but alas No luck in shooting an deer, but Alisha father shot one for us, ( He was just standing on the trail a doe popped out,shot her, and let us use our tags on it).
Lets give you guys the grand tour of the camp site!
Pic 1- Me and my wife
Pic 2- The shelter we staid in. The brown area you see is where we slept in, that can easily fit about 12 people with cots in it. The white area you see that is attached to the brown is the kitchen.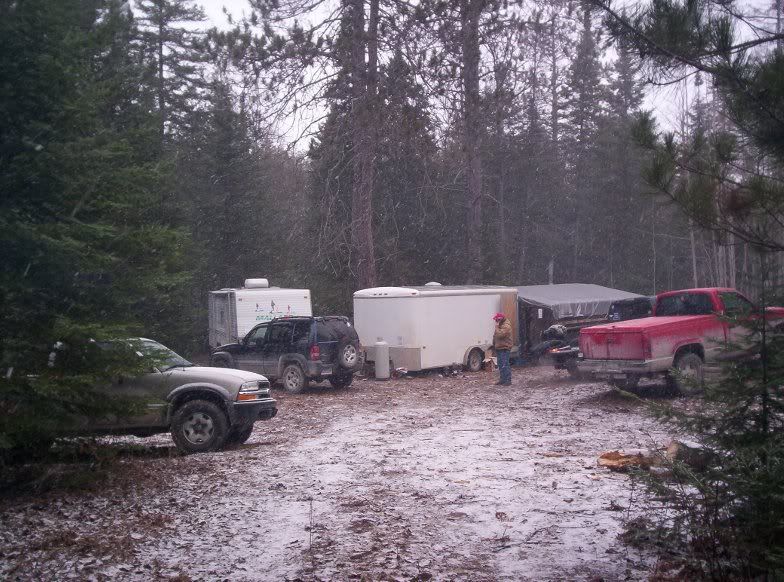 Pic 3- The kitchen
Pic 4- The sleeping area, in the middle you see the heater the whole place is heated by kerosene heater that gets vented out through the chimney you see there. The heater is right smack in the center of the sleeping area ( the other half just looks like the first half)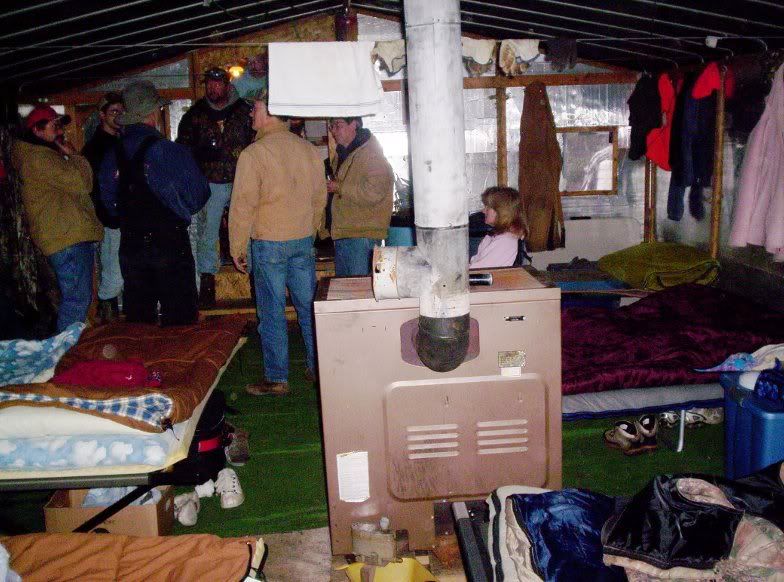 Scrub Buck
Join Date: Nov 2008
Posts: 15
part 2
---
Pic 5- The sleeping area with out all the guys blocking the Kitchen (
rare
moment)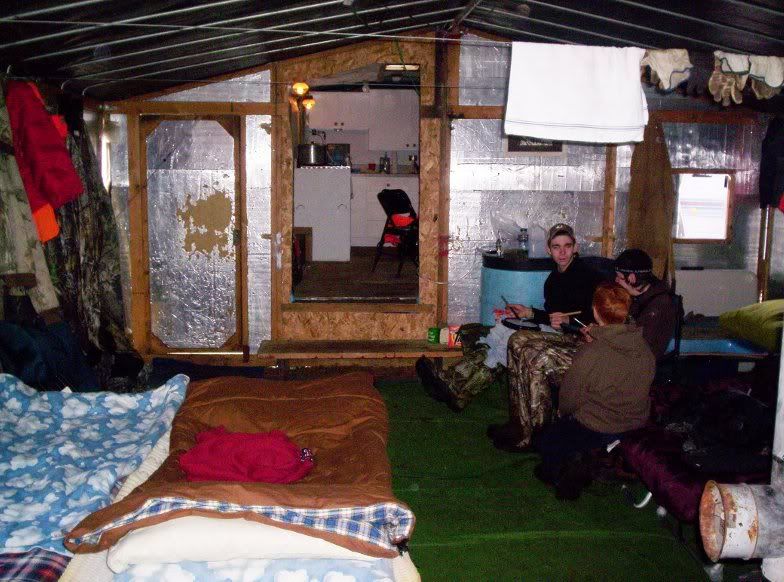 Pic 6- The blind where we stayed at 5 am in the morning till 10 am then again at 2 pm still 5:30 pm (that is the time when it got to dark to hunt)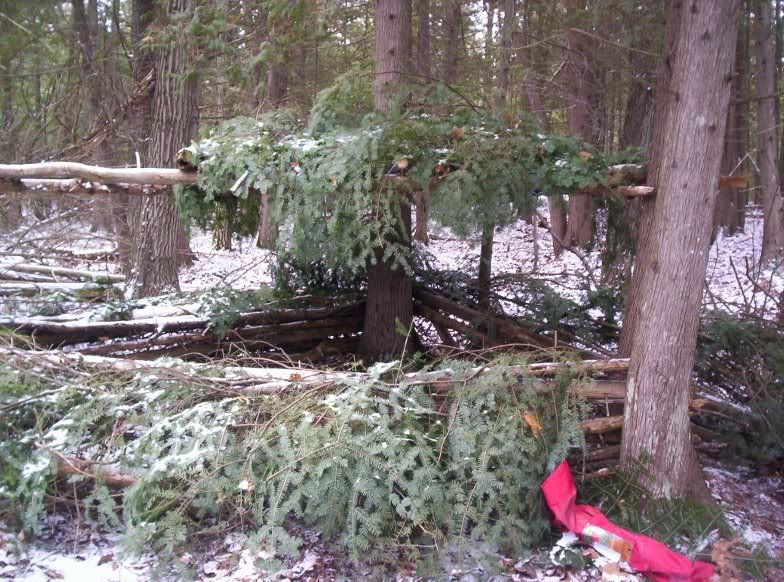 Pic 7- Me posing with my Remington 700 Lh. See the band aid on my thumb? Sigh...I was whittling the wrong way, and SWPATH ! I stab my self in the thumb. It required 4 stitches and 3 hours waiting in the emergency room with an open cut.
PIc 8- The reward when we left (can very well possible add more deers and does until this weekend) In Michigan (depends what licence you get). If you are feeling lucky you can get 2 bucks and a doe, if they have extra doe licence you can buy extra doe licence. Normally I just get a buck and a doe licence. The biggest buck here was 8 pointers. Not to shabby.
Please note that this was about a doe or a buck per person I did not shoot all of these.
Well there is my hunting trip!
Have a great one
Scrub Buck
Join Date: Nov 2008
Posts: 15
If you want more photos of the shelter I'll be glad to post more for you.
B&C 100 Class
Join Date: Oct 2008
Location: Minnesota.
Posts: 30
That's what it's about, great pics. Looks like a good time was had by all.
great pics looks like an awesome setup.i like the trailer/kitchen great idea.too bad ya didnt get a deer but sometimes the camaraderie is half the fun.Im sure you'll be back next year.
---
Now therefore take, I pray thee, thy weapons, thy quiver and thy bow, and go out to the field, and take me some venison.
Genesis 27:3 "The thinking deer hunter should mature through three phases during his hunting life. First phase, "I need to kill a deer." Second phase, I want to harvest a nice deer. And last phase, we must manage this resource so our children and their children can experience the grand tradition of good deer hunting." - Jim Slinsky
Scrub Buck
Join Date: Nov 2008
Posts: 15
I forgot to add that the brown shelter area in Photo 2 actually fits in the kitchen. So all we have to do is set down the shelter stick it in the kitchen and hull it away.
sounds like you had a great time except the hospital thing. remember the more you learn about the deer and deer hunting the better hunting is.