How Old? ? ?
---
This is the only good pic I have of this buck. . . and I cannot make up my mind as to how old he is. . . I know he is old, but just how old I don't know. . . how old do you think he is? ? ?
---
Tell me and I forget. Show me and I remember. Involve me and I understand.
Here are some more pics . . . they are not as good for telling age but they may help. . .
---
Tell me and I forget. Show me and I remember. Involve me and I understand.
That's a very nice deer and I don't know much about deer age but I'll give it a guess and say 4 1/2 yrs old.
That's a nice deer, but a tough question. There are so many factors that contribute to antler development, like heredity, amount and quality of available food, etc. I'd even say that what the weather is like in different parts of the country can effect antlers. For example, in states where bucks may barely survive bad winters, their bodies may be so deteriorated that much of the nutrients they eat during the springtime has to go toward rebuilding their bodies instead of growing new antlers. Where I live (southwest Montana), we have good genetics and, even though the winters can be brutal (for humans) there seems to be enough high quality food, and lots of it, so that relatively young bucks (2 1/2 years old) can grow some pretty nice antlers (4x4). Unless you've been watching that deer for several years, and have some idea of how old it might be, I'd
guess
that in your part of the country, it could be as young as 3 1/2.
Here's a photo of a young buck I shot a couple of years ago. I aged him at 2 1/2. He didn't have a large body, but was in such excellent shape that he sported a fairly nice set of antlers. I can only imagine what he would have looked like in another year or two.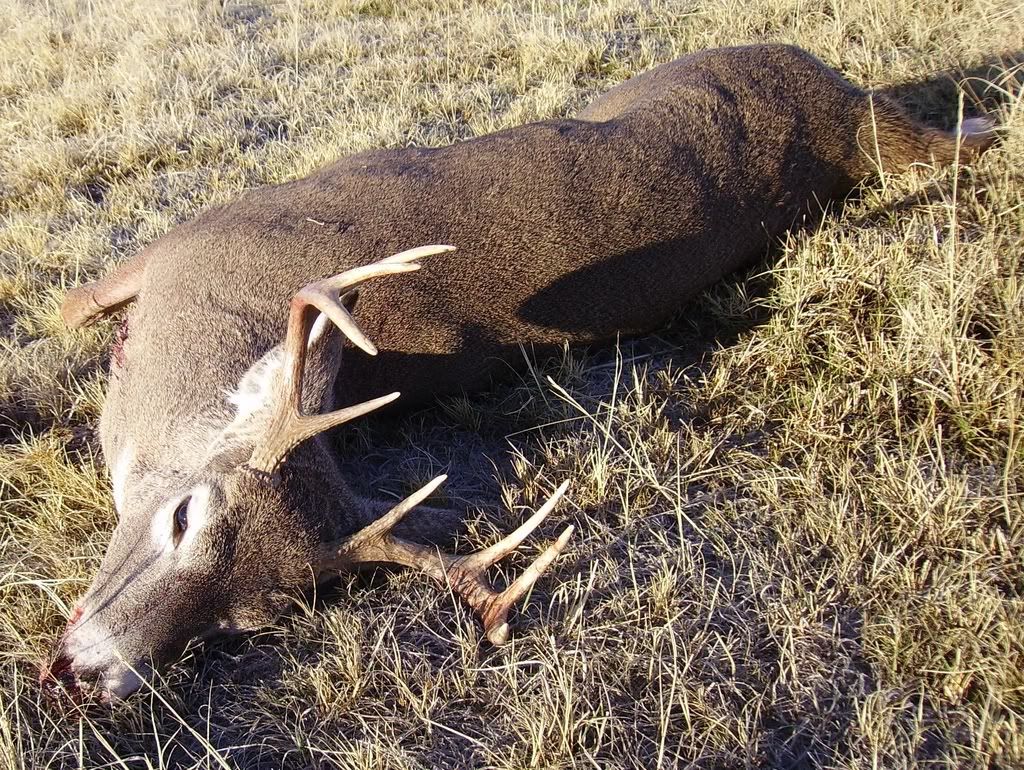 Scrub Buck
Join Date: Jan 2008
Posts: 13
Judging by the body, the drop in the line of the back, and the stocky shoulders, you could probably say that buck is almost definately 3 1/2 , possibly 4 1/2. You can plainly see the difference in the two in the first picture. That is my guess.
B&C 120 Class
Join Date: Nov 2007
Posts: 389
Yep what they said at least 3 1/2 , but not much more. Ought to be Prime this coming season.
Moderator
Join Date: Nov 2007
Location: Oregon, Ohio
Posts: 8,383
No expert here but I'm going with the older group on the buck. I think he's 4 1/2 at least, due to his sway back, rounded head features, and fully filled out front to back. The body is fully mature, the horns look like the mass is a bit light. However, a darn nice buck!
B&C 120 Class
Join Date: Nov 2007
Posts: 389
Okay we've made our guesses, let's wait a little while longer for Ronn, WMI and others to post theirs. Then when you harvest it next season have it aged and see who came closest.
he has the features of a 3 1/2 to 4yr old
---
Now therefore take, I pray thee, thy weapons, thy quiver and thy bow, and go out to the field, and take me some venison.
Genesis 27:3 "The thinking deer hunter should mature through three phases during his hunting life. First phase, "I need to kill a deer." Second phase, I want to harvest a nice deer. And last phase, we must manage this resource so our children and their children can experience the grand tradition of good deer hunting." - Jim Slinsky