E Mail I received
---
Here is a Canadian Fish Story for you....
Awesome Catch On A Lake In Canada ...
56" - 55lbs.
This is a new record Northern Pike in Canada .
He caught it in Rainy Lake !
Check this thing out.
The man (in the photos below), was fishing and caught a 36" Pi k e, as
he
was reeling it in, a 56" Pike tried to eat it !!!!!
He landed them both in the same net.
The last picture is unbelievable.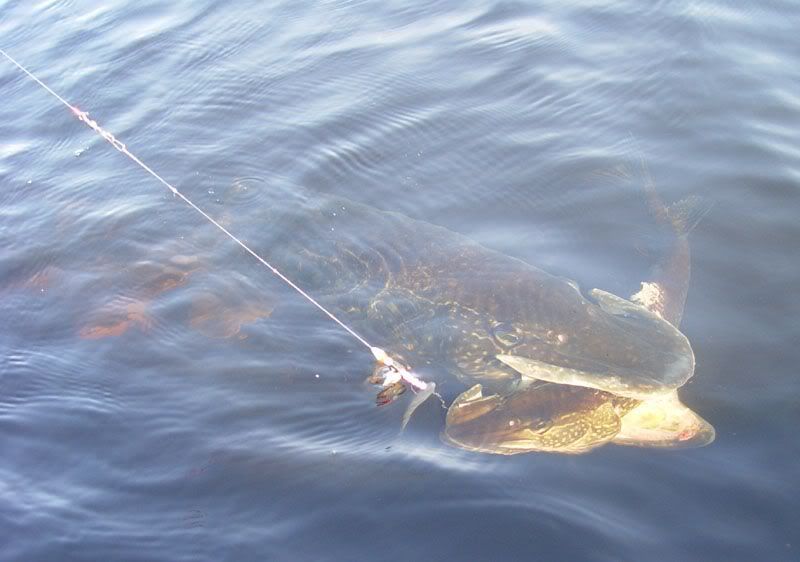 Water Wolf ,huge one
---
Now therefore take, I pray thee, thy weapons, thy quiver and thy bow, and go out to the field, and take me some venison.
Genesis 27:3 "The thinking deer hunter should mature through three phases during his hunting life. First phase, "I need to kill a deer." Second phase, I want to harvest a nice deer. And last phase, we must manage this resource so our children and their children can experience the grand tradition of good deer hunting." - Jim Slinsky
Moderator
Join Date: Nov 2007
Location: Oregon, Ohio
Posts: 8,380
Joel I saw that e-mail too. That's why I go to Canada for those monsters. What a fish!!
HM aren't you headed up that way this summer???
That will get your swimming rear outta the water pretty quick..
Moderator
Join Date: Nov 2007
Location: Oregon, Ohio
Posts: 8,380
TG, I have a cabin and boat rented for a 7 day trip late July and early August. Would be nice to hook onto something like that. Personal best is a 46" 25 lb pike. Anything over 30 lb maybe goes on the wall???