Moderator
Join Date: Nov 2007
Location: Oregon, Ohio
Posts: 8,381
I only ever had one head mounted but paid for son's
. I myself have all my memories stored away right where they first happened, between myself and the game. When I'm gone those memories go with me as they are mine. I'm not knocking anyone who choose to have heads mounted I just never got into it. Everyone has a reason for what they do it's the best way of separating us as individuals in a concentrated world. Scribe that's a nice game room. My buddy in PA has like 6 full bear mounts and a ton of heads looks nice but the cost is huge too.
B&C 160 Class
Join Date: Jul 2010
Location: new york
Posts: 1,115
I prefer the skull mounts.I just bury the head in the ground let the bugs do there thing,then put it on a nice piece of wood from the woods at cabin and your done.Its simple, cheap, and rustic looking.This way when im gone my daughter can say what the hell am i gonna do with all these horns.
B&C 120 Class
Join Date: Nov 2011
Location: Southeast
Posts: 295
I have a couple diy european mounts. They make nice tabel directions. I also have doing pedestal mounts lately and instead of getting expensive bases, I just dress them up with sheds etc. Do the same with floor mounts. Just something different from a wall full of heads.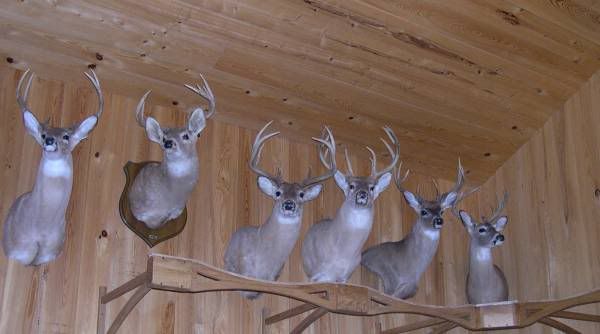 ---
Last edited by scribe; 12-07-2011 at

08:00 PM

.