Found out today that he has been doing it for 46 years, and was an instructor for a long time, and that most of the people here in the ky area that have taxidermy shops most likely got their starting point with him. That was a big wow humbler because talking to him he is defanatly not a ( well I did this, I do that kinda guy)
Price sounds good and other folks speaking high of him says a lot. Doesnt sound like a bad deal at all.
Good luck to you, I'm not trying to get you down or anything. I just had a bad experience with my last taxidermist and wanted you to be aware. I really do hope it all works out to your liking. Post some pics of that finished mount!
---
James 1:2-8
Went today to check on things and go ahead n payed off my balance, well I couldnt had timed it any better. I was taking my dad home (whom talked me into and payed half of it to start with ) well i pass the shop on the way to dads so we stopped in and I run in to talk for a min for an up date and pay off while I had the cash in hand ( with this time of year it don't last long, and I sure didnt want it to be done and my boy have to wait on me for it.) Anyways. The guy had my sons deer on the table and was working on it when I came it, said was about 20 to 30 mins from being done then it just had the drying time. So i gave a shout to dad to come in and we got to see it and man is he gonna love it !
Moderator
Join Date: Nov 2007
Location: Oregon, Ohio
Posts: 8,380
great, just in time for Christmas! He'll always remember this buck! Glad things worked out well!
Yeah he said about two weeks and said defanatly before Christmas and that's like 2 1/2 weeks so before Friday the 23rd for sure, only down is the feet will not be ready but that's ok and my fault because I took them in two days later so they got a different order slot with quite a few in front of them so it will probably be mid Jan on them I think not sure and realy I didn't ask and I don't know why guess it just wasn't as important as the head mount. Lol
B&C 120 Class
Join Date: Nov 2011
Location: Southeast
Posts: 295
I just counted. I have 26 different mounts in my office. Granted, most of them were free or at least greatly discounted because mt best friend is a master taxidermist. I have everything from a flying turkey to a pedestal mount bobcat.
I wish Ihad room for 100 more. As you get older, you are going to wish you had some of yours mounted and money won't be quite so much of a detractor. I am a firm believer in preserving a memory. of course, you can still have the racks mounted by simply buying a cape.
As I sit here and look around the room, I can relive every hunt. I don't even notice the wall of just rack out in the garage. Glad you are doing your son's.
B&C 120 Class
Join Date: Nov 2011
Location: Southeast
Posts: 295
I really don't think I could replce this with just some sawed off racks. Some of these go way back.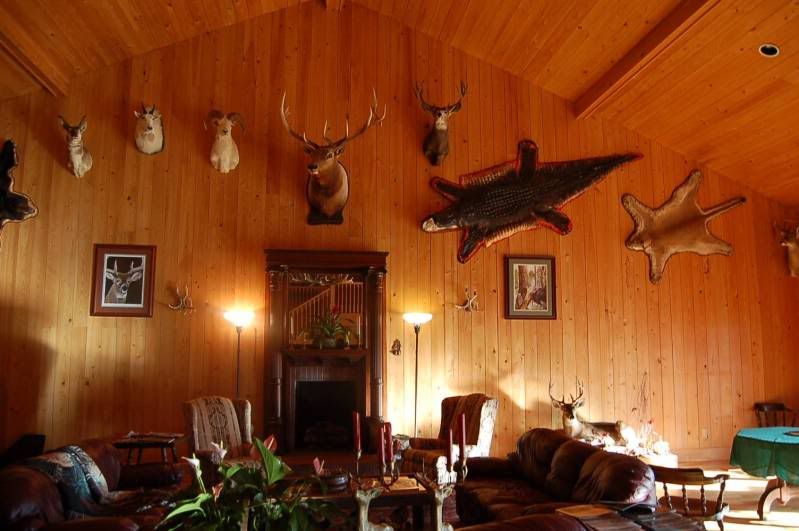 yeah but like you said most was fee or dirt cheep, and id say there would be a whole lot more guys mount stuff if it was offered to them at the same you was offered. most people are paying close to 500 to shoulder mount a deer, thats just crazy. pictuer albums take up way less space and much much easier on the pocket.
and by the way that is an awesome wall you have there, i've never hunted anything that dont live in central Ky,
B&C 120 Class
Join Date: Nov 2011
Location: Southeast
Posts: 295
But there are some great deer in central KY.