Moderator
Join Date: Nov 2007
Location: Oregon, Ohio
Posts: 8,380
favorite firearm
---
For discussion, what is your favorite firearm in your present collection and why. Please follow the guide and only pick one to post,
I would have to say that my "favorite" would be the M1 Carbine that my dad bought my grandfather back in the 60's. Back then, active military (Captain, USNR) could purchase 'obsolete' firearms through CMP. (Still can, but procedures are a lot different now!)

My grandfather passed away a few years later and recently my uncle "returned" the rifle back to us. It had been well kept, cleaned and oiled, and used as a varmint rifle around the ranch house in south Texas. Well, I still use it for that purpose - 2 or 4 legged varmints.

What's not to like about an M1 carbine - it's light as a feather, semi-auto, 20 round clip, very little recoil, and still deadly accurate in the hands of anyone who "grew up" using military open sights. There's all of the above, PLUS the sentimental value it has from being passed down through three generations. (Me, Dad, Grandfather) And some day it will get passed down to generation # 4.

P.S. HM, did I stay within your guidelines???

RR
---
Last edited by rdrader2002; 09-21-2011 at

12:48 AM

. Reason: Add P.S.
I really don't think I could pick a "favorite" as they all mean so much to me. I'll just name off some of the top ones instead.
My 1876 Winchester would definitely be one of them. My great uncle won it in a card game sometime back in the 40s. That rifle was carried by the Maxwell Brothers, a gang back in the 1800s that were in Wisconsin, Illinois and I even think they spent some time in Nebraska. Anyway, that rifle supposedly shot a Sheriff in my town back then (and probably a bunch of other people, critters and who knows what else). There was a book written about those Brothers and in the back it has a picture of the rifle sitting in our local "history museum" on display, which used to be the courthouse. One of the brothers was put on trial in that courthouse and was pulled down the stairs and outside by a mob of towns-people and was hung in a tall oak tree. Pretty interesting story and I am proud to own such a firearm.
This is the man that carried the rifle. Ed Maxwell.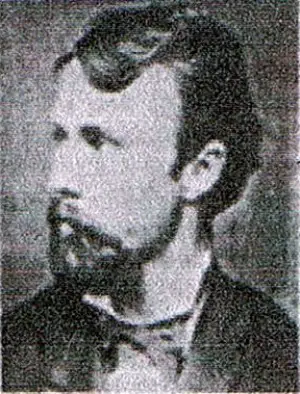 Another would be my Grandpas 410 shotgun. He passed away this spring so that shotgun means a lot to me. RIP.
I've got plenty of other favorites, but since I already said two I'll save them for another time. :)
---
Last edited by WisconsinDeer; 09-21-2011 at

01:11 AM

.
I thought when I originally saw the question it would be a long rifle of some kind, but after pondering for a while I think my favorite has to be my carry gun. Glock 22. It is a blast to shoot, and just in the relatively short time I've owned it I've probably put more rounds through it than any other. It seems like it has become part of my rib cage as it rarely leaves my shoulder harness.
---
John Eitzen
Favorite right now would be the T/C Triumph.. Still love shooting it and hunting with it. Its a good looking piece as well. All camo with a Nikon prostaff riding on top. I guess that is why its my current favorite.

Now if you said if you had to get rid of all guns except 1 it would be a different story.
Moderator
Join Date: Nov 2007
Location: Oregon, Ohio
Posts: 8,380
WD, that's one heck of a gun and history. I too would be proud to own something like that. I've been trying to decide which one I would pick and probably my 1968 Remington 870 16 ga. Not that is the best gun I own but simply it was my first Christmas present firearm at age 14. I had been using/taking some of my Dad's shotguns (sometimes/most times without his knowledge) and he pretty much figured it was time to have my own. Back then I would carry it on my bike down the street to shoot black birds over the corn fields. Mom must have told Dad she was buying me shells!
The gun is still in ex condition today and will go to my son, no different than the rest of the guns.
I do not have a large collection but I still could'nt choose a fav. they all mean a lot to me in different ways
I have my first gun I purchased myself
I have guns that I inherited
others that were gifts
& others I purchased for my daughter to use when we hunt together
just to hard to pick one
---
2017 Bow String Depot Prostaff http://www.bowstringdepot.com/
Remember when posting what may seem innocent to you may not to others,
text shows NO emotions so please,,, don't take it personal & automatically go on the defense.
Take it w/ a grain of salt, take it as a joke or just let it go.
My favorite would be the M98 custom in .257 Roberts. As already mentioned, if I could only retain one rifle (for big game) it would not be this one. It's simply my favorite as she's right purty!
Scrub Buck
Join Date: Jul 2011
Posts: 13
That Sir, is one beautiful rifle!