Scrub Buck
Join Date: Nov 2009
Location: NW Florida
Posts: 12
If we're talking survival, not war, Ruger 10-22. No use taking big game if you're in a survival situation. You have no way to preserve it in the wild. My 10-22 with a scope would keep me alive a long time. I can carry 1000 rounds easily. Can't do that with anyhing else. If you're also talking evasion, you can't be loaded down with a fancy heavy assualt rifle & gobs of ammo. IMHO, That's not survival. That's an amateur weekend.
Join Date: Jan 2007
Location: Vermont
Posts: 5,701
Greetings aharley1, welcome to the deerhunters club.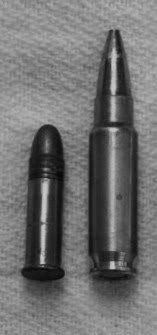 the .22LR compared to the 7.62x39
The .22 catridges may be smaller in size making it possible to carry more rounds "Comfortably",,,
but what you have to keep in mind is,
Survival doesn't accommodate comfort.
---
Democracy is two wolves and a lamb voting on what to have for lunch.
Liberty is a well-armed lamb contesting the outcome of the vote.
-Benjamin Franklin

Moderator
Join Date: Nov 2007
Location: Oregon, Ohio
Posts: 8,383
I haven't answered my own post so far, but I'm thinking a 12 ga in the urban rigging in 3" mag red dot and loaded with oo buck. I could hunt out to 50-60 yds and protect fairly well. Everything is a compromise on this one but responces are interesting and diverse.
I think "One Gun" choice would partially depend on where you lived.
---
We cannot continue to do the same things and expect different results
Scrub Buck
Join Date: Apr 2010
Posts: 8
one gun
---
Question,why did they leave you one gun?I'm afraid that is'nt a part of their plan if implimented.
I would hope that they would look at the pre 1898 and muzzleloaders that everyone has and leave them.
If one modern gun,.22mag rimfire,capable of taking anything if FORCED to;and quiet enough to be under the radar in remote enviroment.
Although not recommended,you can fire lr's in mag,it's been done accidently.
---
Last edited by Jefferson Herb; 04-03-2010 at

11:35 AM

. Reason: spelling