Caption this pic
---
OK this is simple. Just provide a caption for the pic posted here. The caption could be funny, outrageous, etc. Please keep captions clean and G rated remembering that this is a family friendly site. "Caption this pic #1"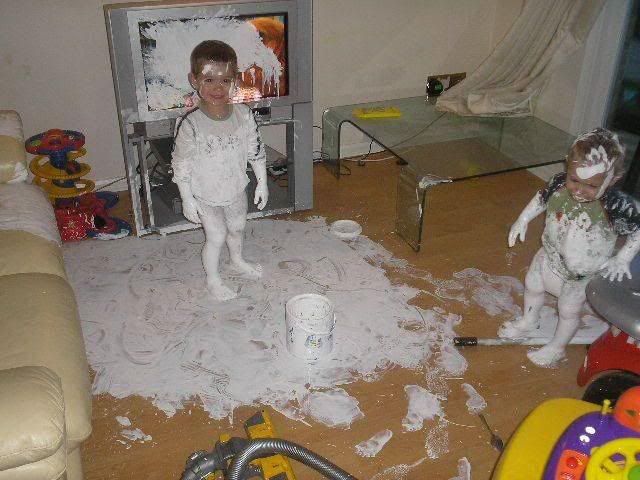 ---
Last edited by timberghost; 11-24-2008 at

08:12 PM

.
B&C 140 Class
Join Date: Jan 2008
Location: Maryland
Posts: 790
BOOM, BOOM !!! Just kidding but I bet the thought did occur. Oh my god that is bad. I would have walked away and said mom come and clean up the mess YOUR sons made.LOL And the flat screen too! I hope it was latex!!
What you lookin at??? We didnt do it.. Daddy said if you wanted it painted that bad you should do it yourself.. Woman..
Join Date: Jan 2007
Location: Vermont
Posts: 5,701
DADDY you should have seen the size of the bird that dropped this on us!
---
Democracy is two wolves and a lamb voting on what to have for lunch.
Liberty is a well-armed lamb contesting the outcome of the vote.
-Benjamin Franklin

we wanted to help ya paint
---
Now therefore take, I pray thee, thy weapons, thy quiver and thy bow, and go out to the field, and take me some venison.
Genesis 27:3 "The thinking deer hunter should mature through three phases during his hunting life. First phase, "I need to kill a deer." Second phase, I want to harvest a nice deer. And last phase, we must manage this resource so our children and their children can experience the grand tradition of good deer hunting." - Jim Slinsky
Daddy the Cat in the Hat was here... really he was.
---
"Whitetail it's more than a passion, it's an addiction"
~~~~
Bowhunter and Handgun Hunter
B&C 100 Class
Join Date: Oct 2008
Location: Ohio
Posts: 75
Mom we're done,for another fifty we'll do the kitchen
B&C 100 Class
Join Date: Sep 2008
Location: NE Kingdom, Vt.
Posts: 47
"WE TRIED TO CHANGE THE CHANNEL"
Lol,