I acquired a duck
---
Yesterday I had acquired a drake wood duck so I guess now I will have to call the taxidermist, and no I did not shoot it out of season.
sooooooooooooooooo,howd ya get the duck?
---
Now therefore take, I pray thee, thy weapons, thy quiver and thy bow, and go out to the field, and take me some venison.
Genesis 27:3 "The thinking deer hunter should mature through three phases during his hunting life. First phase, "I need to kill a deer." Second phase, I want to harvest a nice deer. And last phase, we must manage this resource so our children and their children can experience the grand tradition of good deer hunting." - Jim Slinsky
Wood ducks make great mounts. I have one standing on a piece of driftwood on the firepalce mantel. I'll try to post a pic sometime.
Quote:
Originally Posted by
joel the signman
View Post
sooooooooooooooooo,howd ya get the duck?
Yeah how?
Haven't you guys heard of that special April season,just kidding. I was driving down this one road with deep and wide ditches filled with water, there are ducks and geese everywhere and this one must have decided that it was just his time to go and it flew into a car. It only had a broken neck everything else is in perfect condition. Oh yeah I did not see the duck commit suiced I came along about a half hour later. And just in case you are wondering "no I don't drive around looking for roadkill". I was just lucky
Here's a wood duck mount I had done a few years ago.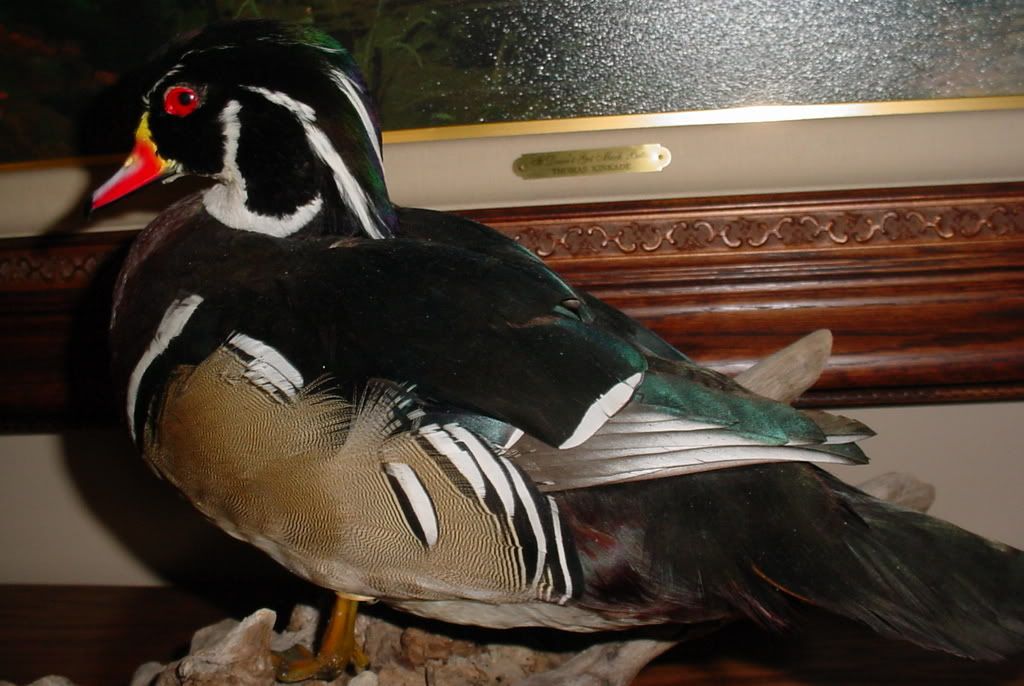 That's a cool looking mount mine will look something like that but it will be on one foot and the head turned back.
pretty birds almost all waterfowl drakes are good looking,cant wait to see the mount
---
Now therefore take, I pray thee, thy weapons, thy quiver and thy bow, and go out to the field, and take me some venison.
Genesis 27:3 "The thinking deer hunter should mature through three phases during his hunting life. First phase, "I need to kill a deer." Second phase, I want to harvest a nice deer. And last phase, we must manage this resource so our children and their children can experience the grand tradition of good deer hunting." - Jim Slinsky